Tamil Nadu and South India are filled with flavor. The food can go from sweet to tangy in a second. The dishes are packed with tastes. It would be helpful for you to know and recognize them. Here are flavors in Tamil for you!
Tamil cooking is unique. There are simple sambars; there are spicy biryanis. Even the simplest cooking requires a different set of spices. Tamilians are big on vegetarian food. They have tons of recipes and dishes fit for a king and with no trace of meat.
It is important to master and understand the flavors so that you are not confused. Read this content to learn about flavors in Tamil so that you know what is added to your food. We'll take the thanks later!
A little FYI for you: taste is related to what you sense in your taste buds; flavor is combining the taste and smell or odor! Tamil meals are complete and perfect when you begin to understand the flavors.
Ingredients In Tamil
To know the taste, you must know about the ingredients that enhance them. Here are some of the important ingredients:
| | | | |
| --- | --- | --- | --- |
| English | Tamil | Pronunciation | Sound |
| tamarind | புளி | Puḷi | |
| curry leaves | கறிவேப்பிலை | Kaṟivēppilai | |
| cloves | கிராம்பு | Kirāmpu | |
| ginger | இஞ்சி | Iñci | |
| cumin | சீரகம் | Cīrakam | |
| cinnamon | இலவங்கப்பட்டை | Ilavaṅkappaṭṭai | |
| nutmeg | ஜாதிக்காய் | Jātikkāy | |
| cardamom | ஏலக்காய் | Ēlakkāy | |
| coconut | தேங்காய் | Tēṅkāy | |
Flavors In Tamil
Here are six tastes that highlight the flavors in Tamil Nadu. The translation is given in Tamil. We will explore a little bit on the recipe and flavors.
In a typical Tamil home, you will find staple flavors such as from pickles, onions, pepper, jaggery, yogurt and so on. In a typical meal you are expected to add this to improve the overall taste. These may not be in the main dish; but is more like a regular side dish.
They can be had any time during the day. Breakfast, lunch or dinner. Some of these items are also for snacks or evening tea time.
| | | | |
| --- | --- | --- | --- |
| English | Tamil | Pronunciation | Sound |
| sweet | இனிப்பு | Iṉippu | |
| sour | புளிப்பான | Puḷippāṉa | |
| salty | உப்பு | Uppu | |
| savory | சுவையான | Cuvaiyāṉa | |
| spicy | காரமான | Kāramāṉa | |
| bitter (rare) | கசப்பான | Kacappāṉa | |
| umami | உமாமி | Umāmi | |
Most Famous Foods In Tamil Nadu
A quick list of most popular Tamil foods with their flavors:
Plain rice (Tamil: வெற்று அரிசி, Veṟṟu arici): Like most steamed rice, this has a plain taste but then the spices change it into something else. Cumin rice is popular, the odor is exquisite.
Tomato rice (Tamil: தக்காளி அரிசி, Takkāḷi arici): There is a tangy taste. It is not very loud so as not to dominate the rest of the dishes.
Sambar (Tamil: சாம்பார், Cāmpār): A must have in every Tamil table. It has a tangy savory taste and resembles a soup. Vegetables like brinjal are added. Typically, it is not spicy.
Lentils (Tamil: பருப்பு, Paruppu): If I could, I'd make it my only dish in the meal. It carries every taste from savory to spicy. Made with lentils, it is a protein rich dish.
Rasam (Tamil:ரசம், Rasam): It is a plain watery broth. It is spicy. It is often confused with sambar but rasam has no vegetables – ever.
Fries (Tamil: பொரியலாக, Poriyal): Most common is beans fry with curry leaves and some grated coconut. It has a savory taste and many kinds of vegetables can be used.
Lentil and vegetable stew (Tamil: குண்டு, Koottu): It is similar to poriyal. It is more watery or looks more like a curry than the stir fry.
Broth (Tamil: குழம்பு, kuzhambu): A tamarind based dish which has a range of meat. It may of may not have lentils. The dish can be watery or with thick gravy. Be ready to be pleasantly surprised by its tangy, yummy taste.
Yogurt (Tamil:தயிர் Tayir): It can be sweetened or unsweetened. It is very common to eat along with rice because it has good bacteria and it can add to digestion.
Pickles and onions (Tamil: ஊறுகாய் மற்றும் வெங்காயம் Ūṟukāy maṟṟum veṅkāyam): It is eaten in moderation but is part of the meal. It can be spicy, sweet and sour – all at once. It is also recommended for digestion.
Jaggery (Tamil: வெல்லம் Vellam): The sweet smell of solidified sugarcane syrup adds to the dessert on the table. It is a healthy sugar and so is nutritionally recommended.
Learn Tamil With Ling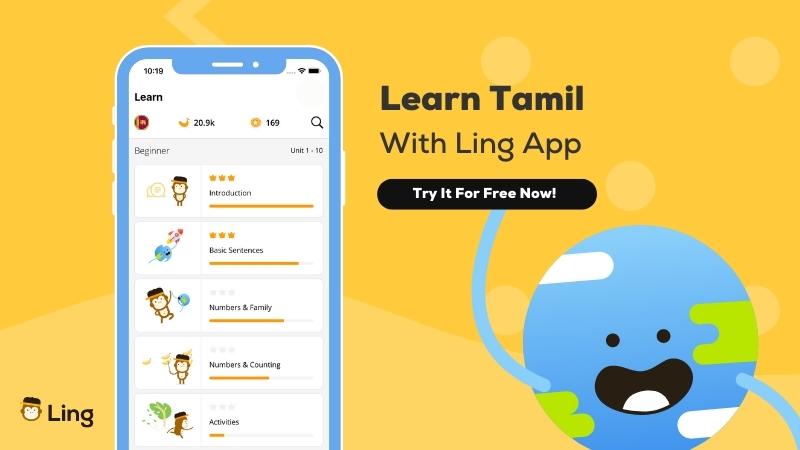 So now you have a full understanding of the flavors in Tamil. But what good is that if you are not out there tasting it all and living the life of a happy Tamilian! Take a leap of faith and travel to Tamil speaking countries like South India, Sri Lanka and Singapore. Even Malaysia, Fiji and South Africa have many who speak Tamil.
It is a beautiful language and certainly would need your time and dedication. But what if I say that we can make the experience "easy peasy, lemon squeezy"? Language learning can be a menace. Each person has their own learning style and tutors, lessons, books, videos, do not always capture it.
What if I told you that there is a solution for it all? Let me introduce you to a wonderful language learning app called Ling. Covering over 60 languages with free lessons, quizzes and entertaining teaching method, Ling covers your listening, speaking, reading and writing needs to learn a language in just one app.
Not only this, by just spending 15 minutes a day, you are guaranteed to learn Tamil in a matter of two weeks to a month. Use the Ling app. Download our app from the Apple Store or Play Store. Share with your friends and let's start this trip together.
Prepare for Tamil Nadu and use Ling as your personal companion and friend to tag along the journey. I am sure, you would never have thought that it'd be this easy. Sign in with us and also find quality information in our Tamil blog. There is a list of things waiting for you; add more knowledge and save time. We guarantee an amazing experience.