Do you want to know about hobbies and activities in Albanian? This is a vocabulary set that will allow you to connect with local people because you'll be able to talk about things that they love doing. Here are some basics to get you going: Fishing is Peskimi and Drawing is Vizatim.
If you're curious to learn more about hobbies and activities in Albanian, buckle up, and let's take a language learning journey.
Hobbies And Activities In Albanian: An Expanded List
Ready to go Noti? If you want to learn more about hobbies and activities in Albanian,
| | |
| --- | --- |
| English | Albanian |
| Fishing | Peshkimi |
| Swimming | Noti |
| Drawing | Vizatim |
| Dancing | Vallëzim |
| Reading | Leximi |
| Cooking | Gatim |
| Travelling | Udhëtimi |
| Shopping | Pazar |
| Skateboarding | Skateboarding |
| Knitting | Thurje |
| Chess | Shahu |
| Bowling | Bowling |
| Meditation | Të menduarit |
| Blogging | Blogimi |
| Hiking | Hiking |
Fishing In Albanian
One of the popular vocabulary words that include hobbies and activities in Albanian that you can learn is fishing. As we've discussed in previous articles, Albania has many lakes and rivers, and it also has a spectacular coastline called the Albanian Riviera. As you'd expect from a place with all that open water, the fishing is great.
One website offers an exclusive 1-day fishing tour in North Albania around the Shkoder lake and Adriatic sea, where you have the opportunity to catch sea bass, mackerel, monkfish, and more. The prices are also very reasonable at €190.
Swimming In Albania
If you follow swimming, you might know that Sidni Hoxha is a national hero in the swimming world of Albania.
Albania has its own swimming federation founded in 1950 (as do many countries in Europe). They govern everything from professional swimming in a pool to open-water swimming. Again because of the abundance of water in Albania, there are plenty of places you can swim(if you're careful). 
If you're interested in swimming in the sea, it's important to know what months are the best for it. From January to April, the sea temperature is between 58-62f, defined as cold swimming. May is from 66-67f and is defined as cool swimming. Between June and October, expect temperatures between 70-79f, defined as pleasant swimming, and then November and December drop back into the cool swimming territory.
One thing to watch out for is water pollution. Although the seas are generally safe enough to swim in, some rivers are problematic. The two rivers that pass through Tirana, the Lane, and Ishem, are way over healthy recommended levels of pollution to swim in. (Although they are clear at their source in the mountains). The pollution comes from trash, untreated sewage, and metals from the mining industry.
Dancing In Albania
All countries have their own traditional dance form, and Albania is no different.
Albania is located in a very culturally diverse place and has found itself under the influence(sometimes by choice and sometimes not) of Italy, Macedonia, Turkey, Kosovo, and Greek folk traditions. (Probably the biggest influence has been Greece).
Research since 1945 indicates that there are approximately 5000 different Albanian dances! Like many elements of culture, these dances can be divided into urban and rural dances. That means Albanians living in different places have different movements, different music, and different costumes.
Another thing to consider, which we've discussed in the past, is the difference between Gheg and Tosk Albanians. There is more of a Gheg-style dance in the North. At the same time, Southern Albania is more Tosk-dominated. Some key differences include using a sazet orchestra in Southern dances with violin, clarinet, illauto, and harmonica.
Also, Northern Gheg dances tend to be more individual, and Southern Tosk dances are more communal. In general, a notable exception to Albanian dancing is female-to-female dances that are very rare in the Balkan region. A good way to identify dances is to pay close attention to their names, as they're often named after the places they originated.
Shopping In Albanian – Tirana
Undoubtedly the best place to go shopping is in Albania's capital Tirana.
For a standard shopping experience, you'd find it in the rest of Europe. It is best to go to some of Tirana's large malls. The best are Tirana East Gate, QTU, and City Park. These malls are easy to reach by bus, or if you have a car, there are ample parking spaces. For a high-street shopping experience, the place to be is Myslym Shryi street.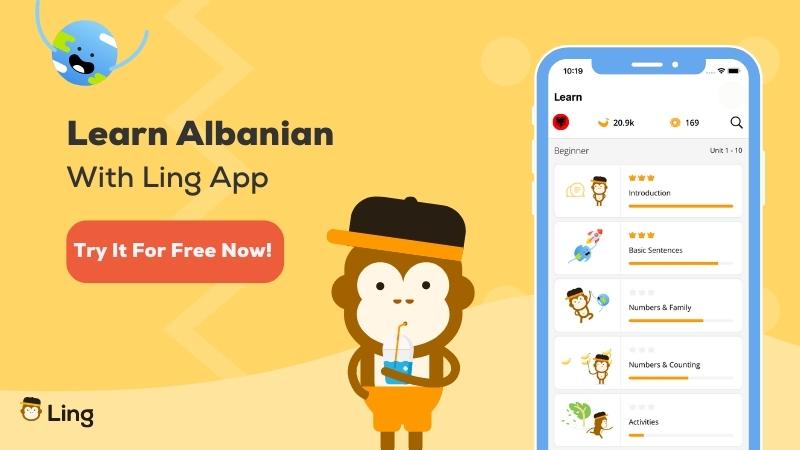 Learn The Albanian Language With Ling
The one hobby we forgot to mention is 'learn a language' Mësoni një gjuhë.
The Ling app is perfect for hobbyists and serious language learners alike. We regularly hear feedback from people who are doing it for fun, to actually travel in the country, or because they plan to work in Albania. A good thing about Ling is that you can jump into the app at any level of difficulty and start learning(it does follow a beginner-intermediate-advanced pattern).
So what makes Ling special? The first thing to comment on is the sheer amount of languages Ling offers. And it's not just from a base of English. You can learn Spanish from a base of French or Thai from a base of Chinese. The combinations are endless and you can download the Ling app right away on the Play Store or App Store too! Fun, isn't it?
Once in the app, you'll find many features familiar following a similar format to other language apps. There are SRS flashcards, listening practice(recorded by native speakers), and the opportunity to practice speaking with our chatbot. All of this comes with gamification elements that ensure you never get bored. Plus, you can compare yourself to other learners on our leaderboard to track your progress.
Keep following this blog for more useful articles on topics as varied as Albanian business vocabulary and Is Albanian hard to learn?