What can be more exciting than looking for names for a newborn baby? It is always so special to search for different and unique names that represent the character the newborn is going to have. If you wonder what some common Lithuanian names you can suggest for someone are, you are just in the right place. This blog has prepared more than 20 Lithuanian baby names, from delicate names to sophisticated ones, which will make you go soft and happy. Just keep reading and feel the fun throughout.
Lithuanian names have always been interesting to hear since most of them are Lithuanian words related to nature. It is a language filled with culture and beauty that makes every single character feel royal and sound romantic. Whether a little boy or a married woman, every name in Lithuanian is magical and has a hidden meaning one cannot miss knowing. So, let's get started and start learning Lithuanian words right away!
What Is The Most Common Name In Lithuania?
Before going into some complex and outwardly names, let us check out common names that sound equally unique and amusing. Sometimes it is only about simplicity and authenticity that many parents look forward to. They justify the baltic origin and the baltic tribe of the Lithuanian language.
Popular Lithuanian Names For Boys
1. Nojus
Nojus is a ubiquitous yet classy name in the Lithuanian language that is perfect for a baby boy. This Lithuanian word Nojus is the Lithuanian form of Noah. Noah is a Hebrew name, and in the Bible, the Hebrew name Noah is considered the second progenitor of the human race. Hence, it does make a very roman family name for a boy.
2. Filip
Filip is the Lithuanian form of the word Philip. It is trendy in the Slavic region, and most of the baby boys in Poland and Ireland are named Filip. It is a simple and short form that every other person would find pleasing.
3. Ramunas
Ramunas is the Lithuanian word for the phrase "boys will be boys." What can be more amusing than naming your son Ramunas and becoming the real hero of the game? Someone calm could perfectly characterize the name Ramunas. The short form of the name also sounds excellent, Ramus. The Lithuanian word Ramus can be found in almost 3/5 boys in every region.
4. Moze
Coming to a concise and cute name, Moze. Although it sounds short and casual, it has a profound meaning: "saved from the water." Although a little vague, it is a fascinating name and the easiest-to-say Lithuanian word.
5. Domantas
Want to name your baby boy a very sophisticated name? Domantas is the best choice. It is the most fantastic name to give your boy as it belongs to one of the most talented and famous basketball players in Lithuanian, Domantas Sabonis. If you are a basketball fan, nothing can be edgier than choosing this name for your son.
6. Gabrielius
If you are looking for more ancient Lithuanian names with deep religious meanings, Gabrielius is the one. It is the Lithuanian form of Gabrial present in the Bible. This Biblical name means "God is my strength" and gives out a very roman word vibe. Especially someone longing for biblical connotations or Christian names can use this Lithuanian name.
Popular Girl's Names In Lithuanian
1. Lina
Lina is a name derived from the Lithuanian word "flax." It doesn't have an English form, but it is a feminine form of the word Linas. It is short, cute, and suitable for a pretty baby girl. It is also amongst the most common Lithuanian baby girl names that every person loves.
2. Egle
We have Egle for a newborn baby girl for another short and exciting name. It is an ancient name that belongs to an old fairy tale where a woman marries a king of snakes living in the sea. The meaning of the Lithuanian name, Eagle, is "spruce." It is because the king betrays the lady, and in the end, the woman turns herself into a spruce tree.
3. Roze
What is more royal sounding than the word Roze? Roze is one of the Lithuanian baby names always considered classic, sophisticated, and welcoming. As you can guess, it has a simple meaning, "rose," and for someone who is as red as a rose in her cheeks, Roze can never do wrong. However, Roze is the Lithuanian version of the word Roza that comes from the Russian language.
4. Stanislava
Love watching the skies at night, counting stars till you fall asleep? How about naming your baby girl with the same love and enthusiasm? Stanislava means "star" in the Lithuanian language and is best suited for your baby girl born with starry eyes. Just call her Stanislava and feel her preciousness.
5. Motina
Motina is a feminine form of a baby name, and it literally means "mother." Nothing can beat the meaning and truthfulness behind this Lithuanian word. It is a precious word in the Lithuanian language, and your daughter will be more than happy to have this name.
6. Angelika
Be it Lithuanian mythology or Russian, Angels will always hold a very exalted position in our cosmic world. Thus, Anglekia, which means Angel in English, is just the right name for your cute newborn baby girl. It never gets old, and despite being a common name, it is marvelous as ever.
Fascinating Names In Lithuanian Language For Boys And Girls
Now that you are familiar with common Lithuanian names let's discover some distinctive and quirky name characters for your beautiful child.
Boy Names
1. Jokūbas
The masculine form of a name for your young boy. It is a concoction of Jacob and James's Lithuanian male names in English variants.
2. Elvinas
It is the word for the German word Elwin in the Lithuanian language. It is best for a baby boy with a brave heart.
3. Alexandras
Another strong masculine name for a baby boy who would grow up to be a brave young man.
4. Jonas
Hebrew origin name, Jonas, is an elegant and stunning name in the common Lithuanian names list.
Baby Boy Names
| | |
| --- | --- |
| Name | Meaning |
| Gelynas | Flower garden |
| Tomas | Historical name meaning twin |
| Jurgis | Derived from the name George |
| Gediminas | Name of the Grand duke of Lithuania |
Girl Names
1. Beata
Beata is a name in Lithuania with a very cultural and historical hint. It means "blessed," Although it sounds like a modern Lithuanian name, it is often regarded as ancient and holy.
2. Greta
Greta is a name derived from the name Margareta. It is a word formed from the Greek word for "Pearl." It is a beautiful name for a beautiful Lithuanian baby.
3. Justina
The name Justina is a feminine form of a Lithuanian variant of Justinas. It is derived from the Latin word or name Lustina. Justina is the Lithuanian version of a character that tributes to several early saints and martyrs.
Baby Girl Names
| | |
| --- | --- |
| Name | Meaning |
| Austeja | Lithuanian Goddess of bees |
| Rozalija | Latin name Rosalia |
| Ruta | The national symbol of Lithuanian, The rue plant |
| Žydrūnas | Light blue |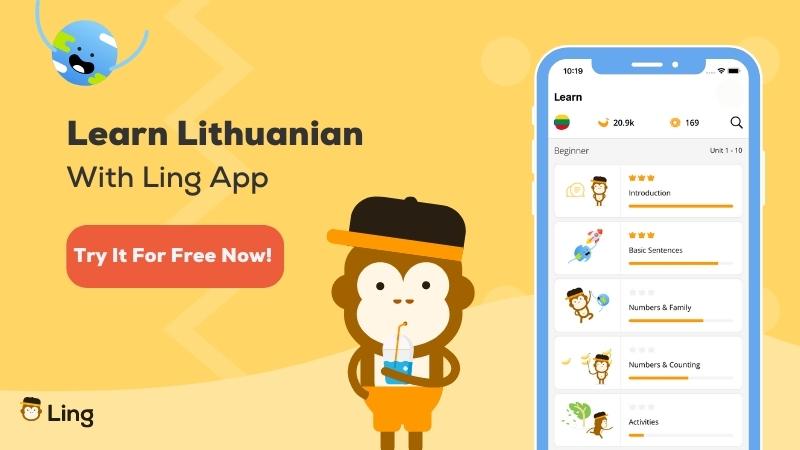 Learn More About Common Lithuanian Names!
If you are still unsatisfied, how about you try out different names of different natives? It is always fun to explore and discover new things daily. There is more to learn about common Lithuanian names! To make it a possibility, the Ling app brings you the best possible content concerning 50+ national languages. Get access to any language you like and not just names! Learn about Lithuanian culture and its grammatical structure as well! You can also opt for other languages and study them for at least 7 minutes per day.
Leave your books and start learning with the Ling app. It is fast, reliable, and completely trustworthy. Enjoy your discovery trip today by downloading it on the App Store or Play Store now!