France is a great nation with numerous cities to visit. Whether you're looking for temporary or long-term accommodation on your trip, know that there are many types of de logement (housing) options available.
In this article you'll learn how to speak and ask about accommodation in French, you'll learn about the different types of accommodation in France, the living quarters and amenities you can expect, pricing expectations, and conversational phrases to help you find or negotiate accommodation.
Let's go!
Types Of Accommodation In French
The choice of accommodation is very wide, from 5 star boujee luxury to camping, France has lodging options to fit everyone's needs. Let's take a look at a few different types and learn how to say each type of accommodation in French.
Homestays (Chez l'habitant)
Homestays in France typically involve staying in someone's home while the owner is also there. It's less common to have a whole house or property to yourself. So essentially, you're someone's guest in their home. Many French homestays will even provide breakfast or dinner, or both!
Nightly rates vary depending on the location, room type and meals. You can find people offering their homes or rooms as homestays in France here.
Bed And Breakfasts (Chambres D'hôtes)
Better known as B&Bs, these types of housing operate in a similar way to homestays where you rent out a room in a home for a night. The difference is you are all but guaranteed to get a lovely home-cooked breakfast! You can even find bed and breakfasts in Paris, although they seem to be more common in smaller villages and cities.
Prices are dependent on location, the size of room, facilities, and the type of breakfast provided.
Hostels (Hôtel/Hostel)
Booking hostels in France is easiest in big cities like Paris. You won't find them in smaller cities or villages. Hostels are the best place to meet other travelers and often provide tour services as well. They're also usually centrally located or near main attractions.
Prices for hostels will depend on the type of facilities (private or shared), types of room (dorm, single bed, or double bed).
Camping (Camping)
Camping is actually really popular all over Europe and is a great way to find accommodation on the cheap. You can rent a tent if you don't have your own, along with blankets. Be mindful of bedbugs though…
There are campsites all over the French countryside and on the outskirts of major cities. Some will provide transportation into the city for a small charge.
Recreational Camping Or Trailer Parks (Parc Résidentiel De Loisir)
This could be a good accommodation option if you don't want to stay directly in a city and are looking to stay for at least a month. Here, you'd have all the equipment you'd need to live although you'd likely need to rent a car to get around.
Holiday Villages (Village De Vacances)
These are more like resorts in gated villages where the premises are run by management. Accommodation comes at a fixed price and a fixed period of time and often includes the use of sports facilities. You'll also have the option of cooking for yourself or having meals arranged for you.
Hotels (Hôtel)
There are of course regular hotels in France, but those are rather plain. Why not stay in a fantasy version instead? Here are some of the fancier options rather than a usual hotel:
Castles And Manor Houses (Château/Manoir)
That's right! You can actually stay in a castle in France! Explore the structure and incredible living quarters of these updated gems. Some will even have you arrive in style with a horse-drawn carriage.
French Inns (Auberge)
More like a mix of a chateau and a bed and breakfast, a French inn is a lovely place to choose to stay on your trip. They provide a cozy feeling and are often out in the country.
Accommodation Amenities In France
Like most of the world, hotels are rated using stars from one to five. Those with the best services will have the best reviews.
Some amenities that are not common even in 5 star hotels, are bathtubs, saunas, fitness centers, and sometimes swimming pools. Shockingly, Wifi will be an issue. There is no guarantee that your hotel will have internet access, yes, even in this day and age.
French Hospitality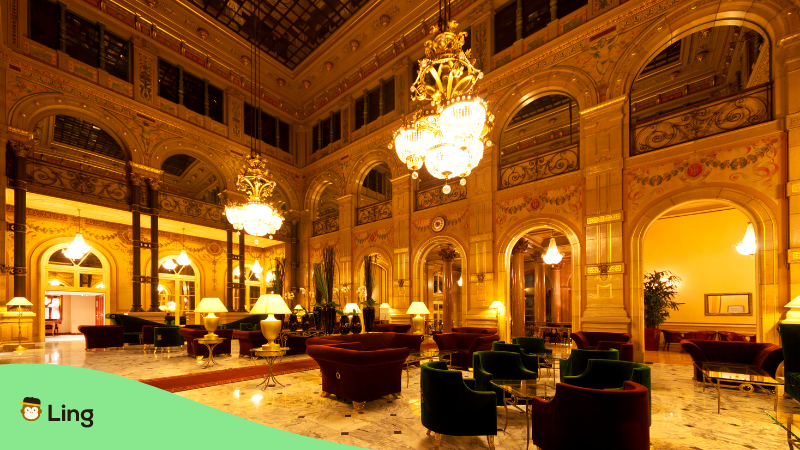 The French hospitality in your hotel or other accommodation, will no doubt be of a high standard. Generally, people will try to be helpful however, sometimes they may come across abrupt. The French are also more likely to help you if you speak at least some French, so keep that in mind and brush up on some common phrases.
General Info About French Accommodation
Expected Accommodation Costs In France
Well, it's safe to say that staying in France isn't going to be cheap. Even hostels cost at least 25 Euros a night and camping costs at much as 50 Euro for a campsite. Do your research as a traveler before you arrive so you can budget appropriately.
Hotels especially the fancier options, can cost hundreds of Euros a night sometimes more!
Best Places To Stay In France
According to other travel blogs, these are the best cities to stay in while visiting France:
Paris
Nice
Bordeaux
Lyon
Corsica
Marseille
Loire Valley
Cannes
St. Tropez
Lille
Mont Saint-Michel
French Alps
How To Have Conversations About Accommodation In French
These are some questions and phrases you can use to ask about any type of accommodation in France. We hope you find these helpful!
How To Book A Hotel In French
How To Negotiate Best Prices
Obviously, if you can get a better deal, try! Here are some phrases and questions to try.
Asking For Directions To Your Accommodation In French
When leaving the hotel, you might need to ask where to go.
Checking In And Out Of A Hotel In French
These phrases will help make the process of checking in and out easier.
Asking For Where Places Are In French
If you're out and about, these questions can be used to ask locals where places are.
How To Ask If The Hotel Has Something You Need
Need something? Don't be afraid to ask! Here are some handy questions in French.
Continue Learning With Ling App!
You're now up to snuff on accommodation in French, and we'd love to help you master even more French with Ling App!
Ling makes learning French simple, convenient, and, most importantly, fun for travelers. And you know what else? Besides French, our app offers 60 other languages you can choose to learn.
It's free to try, and then when you sign up, for one price, you'll get access to ALL languages at your fingertips.
Whether it's French or Hungarian, Ling has comprehensive lesson plans for every language and all of our language lessons have been signed off on by native speakers.
Check Ling out in the Play Store or Apple Store.