When visiting a new place, tourists often flock to popular spots, such as viện bảo tàng or museums, to uncover the country's rich history and culture. If you want to explore Vietnam's unique identity, read this post, as we'll feature incredible Vietnamese museums. With an array of ancient artifacts and modern art, the museums we'll cover here offer an unforgettable journey of discovery for every curious traveler. Let's begin!
Vietnam is a land filled with great cultural diversity and nature. Once you set your eyes on places like famous tourist spots like Ha Long Bay, you'll fall in love with the country. And when you get your hands on their finest meals, such as Pho and Ga Tan, you'll want to extend your stay or get some take-outs. But did you know that aside from all those, this Asian country is well-known for its history?
From the ancient kingdom of Champa to the modern struggles of the Vietnam War, Vietnam has a fascinating story. So, if you want to understand this vibrant country truly, explore its rich history and discover the fascinating events that have shaped its identity. But before we start, let's first go over a few Vietnamese words related to this topic.
| English | Vietnamese | Pronunciation |
| --- | --- | --- |
| Museum | Viện bảo tàng | |
| Artifacts | Hiện vật | |
| Exhibit | Triển lãm | |
| Gallery | Phòng trưng bày | |
| Curator | Người phụ trách | |
5 Vietnamese Museums You Should Visit
Prepare to embark on a fascinating journey of discovery as we explore the top Vietnamese museums you cannot miss. With a rich cultural heritage that spans thousands of years, this Asian country is home to a treasure trove of artifacts, relics, and artworks that offer a unique glimpse into its fascinating history and culture. From ancient dynasties to the Vietnam War and traditional art, these museums will take you on a journey through time and help you gain a deeper understanding and appreciation for this vibrant Southeast Asian nation. So, let's dive in and discover the top Vietnamese museums you should add to your itinerary.
1. Ho Chi Minh City Museum Of History
Location: 2 Nguyen Binh Khiem Street, Ben Nghe Ward, District 1, in Ho Chi Minh City, Vietnam.
This museum's history had a long rollercoaster ride as it was first planned to be a museum for Commercial Trade in 1885 but was later turned into a deputy general's private residence. It then became a headquarters for Japan when they defeated the French colonizers and colonized the country; the list goes on. However, it eventually gained its name in 1999 after being primarily known as Ho Chi Minh Revolutionary Museum.
The moment you step inside this Ho Chi Minh Museum, you'll find several artifacts. This place holds more than 40,000 collections that have been well-preserved for centuries. The building has nine sections that equally divide Vietnam's history. You'll find pieces of paintings, literature, artifacts, and other items that preserve the culture and history of the nation.
You may visit this place from 8:00 AM to 11:30 AM and 1:30 PM to 5:00 PM. It's open daily, and the entrance fee varies depending on your visit. Below is the list of ticket prices:
Monday to Friday: 150,000 VND/adult and 100,000 VND/child.
Saturday and Sunday: 200,000 VND/adult and 150,000 VND/child.
2. War Remnants Museum
Location: 2 Nguyen Binh Khiem Street, Ben Nghe Ward, District 1, in Ho Chi Minh City, Vietnam.
Does the idea of war send chills down your spine? Moving on to the War Remnants Museum, a popular tourist spot in Saigon established in 1975. It was first known as the Museum of Chinese and American War Crimes.
This historical place shows Vietnamese life during the war; every exhibit has pictures, weapons, and documents from the retrieved Vietnam war. You may also find the equipment and vehicles they used during the battle. While to be more specific, you'll find artifacts such as French appliances, guillotine, and the well-known tiger cages used to imprison politicians and individuals from before.
If these details interest you, why don't you visit them yourself? You may visit it every Monday to Sunday Below is the information you need to know about its ticket prices:
Monday to Sunday: 40,000 VND/adult; 20,000 VND/6 to 16 years old.
Children below six years old are free.
3. Vietnam Museum Of Ethnology
Location: Nguyen Van Huyen Street, Cau Giay District, Hanoi, Vietnam.
Some may find museums boring, but kids and adults will have a great time at the Vietnam Museum of Ethnology. They offer educational activities for different age groups, making them an interactive establishment. With these fantastic workshops, people can learn about other cultures while having fun. This place exhibits three divisions with different purposes, and these rooms are the following:
Permanent Exhibitions. Venturing into this part of this museum shows you the different cultures and traditions of ethnic groups from Vietnam. A tour here shows the types of architecture you'll find in the country. While they don't just flaunt their way of living, they also give a glimpse of the South East Asian culture and art pieces. You'll find other sections with other continents' cultures. It may include musical instruments, sculptures, and more.
Temporary Exhibitions. Visiting this museum section highlights different routes, landscapes, and histories of certain parts of Vietnam. Currently, you'll also find the Italian routes related to mountains, climate change, and mountaineering. Moreover, photographs in each part of this exhibition will inspire you too.
Virtual Exhibitions. As for this last division of the institution, you'll find a collection of images of the Italian routes, its mountains, climate change, and mountaineering. It's the same as the temporary exhibition but without the details related to Vietnamese.
Excited to book a ticket today? This place offers much to explorers like you, so it's not surprising if you get interested. You may check the details below regarding its opening hours and ticket prices:
Tuesday to Sunday (8:30 AM to 5:30 PM): 40,000 VND/Adult; 15,000 VND/Student; 10,000 VND/6 to 8 years old, and 50% off discount for people with disabilities, Vietnam's ethnic minorities, and elders.
While it's free for children below 6 years old, Journalists, Donors, and individuals with special severe disabilities.
4. Vincom Center for Contemporary Art (VCCA)
Location: B1-R3 Floor, Royal City, 72A Đ. Nguyễn Trãi, Street, Thanh Xuân, Hà Nội, Vietnam
There are many reasons for tourists to visit a museum. Some do it for history's sake, while others do it for art. However, it's not limited to these two choices. If you see life in art, you'd want to add Contemporary Arts Centre in Hanoi to your itinerary. It aims to inspire, contribute to Vietnam's spiritual life, and reach people through creative pieces.
Moreover, this place has several objectives, which all boil down to preserving art, raising awareness, and letting artists express themselves. Taking a tour of this center welcomes you with exhibits of different professionals. You'll find enjoyable video galleries, art classes, creative workshops, and interactive events there.
In terms of operation, they are available in all four seasons. Each event lasts for three months and comes in different themes.
Monday to Sunday (10:00 AM to 9:00 PM): Free of charge!
5. Vietnamese Women's Museum
Location: 36 P. Lý Thường Kiệt, Hàng Bài, Hoàn Kiếm, Hà Nội, Vietnam
Who's ready to take a trip to the Vietnamese Women's Museum? From the name itself, you can already tell that this place presents the role of Vietnamese women in Vietnamese history and contemporary life. It was mainly established to preserve documents and artifacts from the past and teach the next generation about women's contribution to the Vietnam community.
Moreover, this astonishing building holds more than 40,000 materials and artifacts you may get interested in once you take a tour. Similarly to the museum of ethnology, they offer amazing educational programs that can help visitors learn more about the women of the country. While the establishment is divided into three sections, here are the exhibits you'll find in this museum in Vietnam.
Permanent Exhibitions. This part of the museum shows their role in the family, fashion, and history. It gives the visitors a gist of the customs, beliefs, and traditions they follow as a woman in Vietnam.
Temporary Exhibitions. While if you explore this section, you'll be welcomed with special themed exhibitions. This segment is continuously changing as they adapt to the social anthropology and development of contemporary society. It simply aims to give the spotlight to different groups, such as women under vulnerability and disadvantaged children.
Online Exhibitions. If you want some inspiration or motivation to do something, this museum has this exhibition to help you out. You can read stories from different people sharing their life stories, or if you prefer interpreting images, then the photos they've submitted may give you some energy.
Suppose that you're staying in this town known as Hanoi. Would you visit one of the best museums in Vietnam? Well, if you're planning to do so, below are more details:
Monday to Sunday (8:00 AM to 5:00 PM): 40,000 VND/adult and 10,000 VND/child below 16.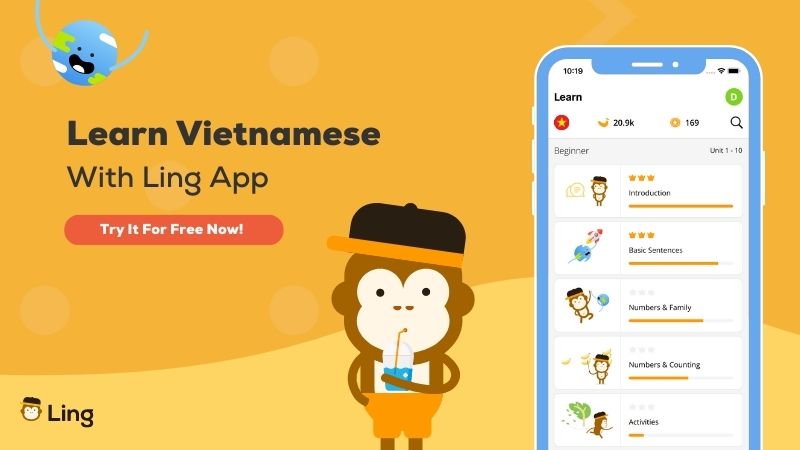 The Tour Ends Here! Want To Learn More?
Now that you've got a glimpse of the best Vietnamese museums, which place would you go to first? But hold up, before deciding which place held your eyes captive, you might want to learn a few phrases to help you before visiting.
If you need help learning Vietnamese and other languages, Ling's here to give you a hand. It's not limited to providing facts about different nations' cultures, traditions, and delicacies. With Ling, you can explore other languages worldwide through in-depth language lessons! From fun games and a chatbot to engaging quizzes and advanced blog posts, Ling provides all the support you need to master your target language!
Want to try it for FREE? Download it now from the Play Store or App Store to start learning!