Having a language learning application to guide and help a beginner in mastering a new language is very common nowadays. But how can we know if it suits the learning style of a language learner? In today's blog, I will give an honest review on which of these two best language learning apps, Tandem Language App vs. Drops Language app, is the best app in language learning. Let's find out!
Learning a second language is a very rewarding experience. Though it seems very hard to do, if you are eager and motivated to learn, there's no excuse, and nothing can stop you from achieving this goal. There are multiple ways to start learning from big books, language translation dictionaries, and online language learning applications.
Today, I will honestly review the two best language apps, Tandem vs. Drops. We will know which of these two apps is best for beginners. Also, I will present the best alternative app that can help you learn a language, unlike any other language apps. Read on to find out more.
Tandem Language Learning App: Overview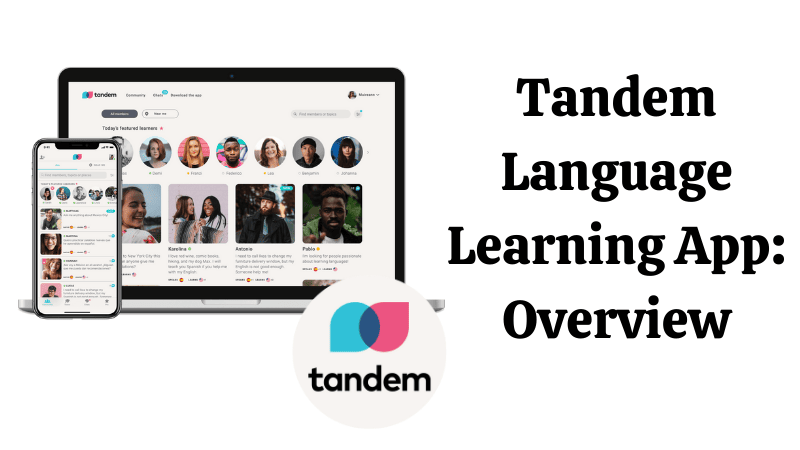 Are you looking for a language partner or buddy? Then, Tandem is suitable for those looking for a language. This language exchange app helps you achieve language acquisition by connecting to various language enthusiasts. Through this, exchanging messages through different language learners and other users is the main focus of this language app.
Moreover, Tandem is similar to various dating apps because this app lets users communicate with other users worldwide. Also, it is because a user needs to have a profile picture in using this app, so most of the users may be attracted or may be interested in starting a conversation with someone. However, Tandem is not a dating app but a language learning partner app.
Aside from conversing with other language learners, Tandem also provides actual language tutors who are native speakers from different parts of the country that teach language proficiency.
Can Tandem Help You Become A Native Speaker?
Using Tandem can improve your language skills in learning new vocabulary words and pronunciations. But the language lessons seem a little lacking in mastering your target language.
How To Use Tandem
The Tandem app can be used by using smartphones and through their website. After signing up, you need to complete your profile by typing descriptions about yourself and uploading a profile picture to start a conversation. You could look for the 'community tap' and find people online with a language partner to start the conversation. Having a language partner is the difference between Tandem in other language apps. A language partner may help other users in learning a new language.
Before searching for a language buddy, you need first to review the profile and check the person's ratings to help you in language learning. Once you've decided and your account is qualified, you can start sending basic conversational skills to your language partner.
Features Of Tandem
Tandem has more than 160 languages to choose from and learn from with your language exchange partner. You can learn popular languages like English, Spanish, Chinese, Portuguese, and French to improve your speaking skills in a comfortable and fun way.
Aside from that, you can still have a conversation even if you are in a free version. You can use valuable tools available in the message features such as video record, voice chat, audio call, and chat. You can also correct each other's message, listen to a written message, or add a comment if you have feedback.
Another feature of Tandem is the translation. The chat room will automatically translate to the target language you are learning. Furthermore, you can find people near you who also use this app. Another great thing is, it has a goal section in checking and setting both of your goals in learning languages.
Is Tandem A Free App?
Yes, Tandem is a free language learning exchange app. But it also has a premium version called Tandem Pro.
Using a free version may help you learn languages and teach languages to a limited number of tutors. But like what I said a while ago, you can still use the messaging features even in a free version. The downside is, you may encounter various ads while using the free version.
Tandem Premium Version And Subscription
Tandem's premium version offers various language tutors from other foreign countries to facilitate language exchange in teaching new languages like a foreign language. You can also experience ad-free learning new vocabulary words and access multiple languages.
Below is the Tandem Pro price:
The monthly subscription costs $6.99
The quarterly subscription costs $3.99
The annual subscription costs $2.92 per month
Pros And Cons Of Tandem
| | |
| --- | --- |
| Pros | Cons |
| Having a language exchange partner in learning multiple languages | Focused mainly on conversational skills and interactions with other users (no specific learning process) |
| Messaging features in the free version | Tandem app became a dating app for other users |
| Simple yet engaging user-interface | Not applicable offline |
| There are too many language partners to choose from | The Tandem Pro is expensive |
Drops Language Learning App: Overview
Unlike the Tandem language app that focused on learning a language through a language exchange partner, the Drops language app mainly focused on improving vocabulary skills in a gamified teaching type.
This app provides audio and video lessons that teach new vocabulary words to a beginner. Since Drops is a gamified learning language application, they provide interactive lessons like puzzled-word games, mazed-word games, pictorial and audio lessons.
Can Drops Help You Become A Native Speaker?
Since the Drops language app teaches only new vocabulary words, it does not help a beginner become a native speaker. This type of learning style may not help a beginner in language acquisition.
How To Use Drops
Drops have three levels: The beginner level, the intermediate level, and the advanced level. You can advance your level by mastering new words by playing interactive games. Having a straight streak in the streak features also helps you proceed to a new level.
Note: If you are a first-time user of this app, you can click the options on the settings to use your native language in learning your target language.
Features Of Drops
Seeing that Drops are only limited in teaching vocabulary skills, they produce a partnered app for additional features in language acquisition. But these two language apps are available only in the premium version.
The first partnered app is the Scripts app, which focused on teaching writing systems of a specific target language. The second app is the Droplets app, a more engaging and child-friendly language app for kids. Though the Drops app is a game-like app, Droplets is a more aesthetically designed and straightforward app for kids to practice languages.
Another feature of Drops is the multiple languages it provides. You can choose different languages to learn because it offers 45 other languages. Popular languages like Chinese, German, Spanish, Korean, and Japanese are available. Minority languages are also available.
Is Drops A Free App?
Drops is a free app. But having a free version of this app is a very limited and hassle way of learning new words. Aside from that, users can use Drops at least 5 minutes every 10 hours a week. You may also encounter tons of advertisements while learning.
Drops Premium Version And Subscription
If you want to use Drops in your language learning and the free version may limit you, you can avail of the premium version of the Drops app. But if you think that the premium version is a bit pricy, you can check some of the discount vouchers and promos sent in your email.
Below are the features that Drops Premium version offers:
Unlimited access to all the languages (45 foreign languages)
Experience an ad-free use of Drops
You can use it even when you're offline
Unlimited usage of the app
More lessons to choose from
The monthly subscription costs $8.49
The annual subscription price costs $69.99
The lifetime subscription price costs $159.99
Pros And Cons Of Drops
| | |
| --- | --- |
| Pros | Cons |
| Engaging and aesthetic user interface | It does not focus on grammatical skills |
| Easy to use language app | Confusing and vague icons and pictures |
| Adaptive algorithm | Often crashes |
| Audio-recorded voice (Speech Recognition Technology) | |
Tandem Language App Vs Drops Language App: Final Review
Choosing the best between the two language apps depends on the learning style of the language learner.
The Tandem language app is a better choice for a beginner who wants to have a language learning partner mastering a new language. Learning through socializing and interacting with other native speakers is one of the teaching methods of Tandem. So if you are one of the language learners who like this type of learning, you should try and download the Tandem app.
On the other hand, the Drops language app is better for beginners who want to learn a new language while playing. Because of its attractive and aesthetic designs, this learning platform makes the learners motivated and engaged in learning a new language.
Having known the reviews of these two apps, if you think that it is not your style, I will present you with the best alternative app that can help you learn a new language.
Best Alternative Language Learning App: Ling App
Ling App by Simya Solutions is a learning language application that you can use anytime and anywhere. This application is a user-friendly and hassle-free learning app that a beginner must have.
Ling app offers lessons for 60+ foreign languages (including minority languages!), so language learners can choose what they want to learn. Also, there are interactive games available in the app, such as engaging quizzes, A.I. chatbot, and flashcards. Informative and educational blog posts are also available to know more about the target language. If you want to start a new way of learning, try and download the Ling App today!