Watching Thai films or TV dramas is a common way to pick up the language, but did you know that listening to Thai music can have the same effect?
Rock music or folk music can serve as a cultural ambassador for a country. This is because the lyric may often reflect the Thai musicians' experiences, views, and feelings on matters like love, social change, politics, and more. As a result, listening to Thai music is a fun method to gain insight into the country's culture. We compiled a list of some famous Thai musicians so that you can find a new approach to enjoy learning Thai.
Here on the blog, we'll recommend some famous Thai musicians and singers, so be ready to listen to some of their biggest hits!
Best New Waves Thai Musicians
Let's begin with the young Thai musicians who continually impressed us with their music, skill and songwriting.
1. Tilly Birds – ทิลลี่เบิร์ด (Tin Lîi Bə̀ət)
Three male musicians are making up Tilly Birds, and they're all signed to Gene Lab. It's an alternative rock band that has a combination of Thai pop music, with band members including;
อนุโรจน์ เกตุเลขา – Anuroth Ketlekha (Third) is a lead vocalist.
ณัฐดนัย ชูชาติ – Nutdanai Chuchat (Billy) is a guitarist.
ธุวานนท์ ตันติวัฒนวรกุล – Thuwanon Tantiwattanaworakul (Milo) is playing drums and backing vocals.
Famous Songs
2. Three Man Down – ทรีแมนดาวน์ (Tá Rii Mɛɛn Daao)
It's a pop-rock band that is also under Gene Lab, featuring four male musicians;
กฤตย์ จีรพัฒนานุวงศ์ (กิต) – Krit Jeerapatananuwong (Krit) is the vocalist.
พีรพล เอี่ยมจำรัส (ตูน) – Peeraphon Iamjamrat (Toon) is the producer, songwriter, and guitarist.
เตธนันท์ วงศ์ปรีชาโชค (เต) – Thaythanan Wongpreecha (Thay) plays drums.
วิศรุต ปฐมศิริไพศาล (เส็ง) – Wisarut Pathomsiriphaisarn (Seng) is the synthesizer player.
Famous Songs
Best Thai Musicians Of All Time
Here are more Thai musicians to recommend. Even though their music isn't particularly popular currently, this group of Thai musicians is nonetheless widely recognized and respected.
Bodyslam
Clash
Silly Fools
Potato
Big Ass
Zeal
Paradox
Slot Machine
Getsunova
Potato
Tattoo Colour
Labanoon
Some Of The Most Famous Thai Singers
We'll have the most successful singers as examples. So let's look at this prestigious list of famous solo artist and their songs.
เบิร์ด ธงชัย แมคอินไตย – Bird Thongchai Mcintyre is an all-time popular Thai singer.
ป๊อบ ปองกูล – Pop Pongkool is a soft and warm voice.
ลิซ่า แบล็กพิงค์ – Lisa Blackpink is a Thai rapper and talented dancer not based in Thailand but is based in South Korea.
มิลลิ – Milli is a Thai rapper that fresh blood and talented.
Popular Folk Singers In Thailand
There are many types of Thai folk songs in Thailand. However, we'll focus on Luk Thung (ลูกทุ่ง, lûuk tûng) & Mor Lam Singers (หมอลำ, mɔ̌ɔ lam) in this topic because both music genres are most popular.
1. Siriporn Ampaipong – ศิริพร อำไพพงษ์ (Sì Rí Pɔɔn Am Pai Pong)
Siriporn Ampaipong is from the northern region of Thailand and sings Mor Lam and Luk Thung. She originates from a long line of Mor Lam singers in the Thai province of Udon Thani. Typically, she sings sentimental ballads.
Her Famous Songs
2. Tai Orathai – ต่าย อรทัย (Dtàai ɔɔn Tai)
Female Luk Thung singer, Tai Orathai is from Ubon Ratchatani in Thailand. สาวดอกหญ้า (sǎao dɔ̀ɔk yâa), or "Miss Grass Flower," is another name for her, which is from her first debuted album.
Her Famous Songs
3. Mike Phiromphorn – ไมค์ ภิรมย์พร (Mai Pí Rom Pɔɔn)
Mike Phiromphon, originally from the northeastern region of Thailand, is a well-known Mor Lam and Luk Thung singer.
His Famous Songs
More Well-Known Luk Thung & Mor Lam Singers In Thailand
Kong Huayrai – ก้อง ห้วยไร่ (gɔ̂ɔng hûai râi)
Takkatan Chonkada – ตั๊กแตน ชลดา (dták dtɛɛn chon daa)
Lamyai Haithongkham – ลำไย ไหทองคำ (lam yai hǎi tɔɔng kam)
Phai Phongsathon – ไผ่ พงศธร (pài pong sà tɔɔn)
Sunaree Ratchasima – สุนารี ราชสีมา (sù naa rii râat sǐi maa)
Yinglee Srijumpol – หญิงลี ศรีจุมพล (yǐng lii sǐi jum pon)
Monkan Kankoon – มนต์แคน แก่นคูน (mon kɛɛn gɛ̀n kuun)
Ble Patumrach – เบิ้ล ปทุมราช (bə̂ən bpà tum râat)
Jintara Poonlarp – จินตรา พูนลาภ (jin dtraa puun lâap)
Jah Rsiam – จ๊ะ อาร์สยาม (já àas yaam)
Kratae Rsiam – กระแต อาร์สยาม (grà dtɛɛ àas yaam)
Who Among The Many Thai Musicians Do You Plan To Listen To?
You should have searched while reading this blog since we mentioned many Thai musicians and singers you should look up. However, it would help if you first listened to their music and then read the lyrics to really appreciate their music. Songs are typically written in simple, smooth, and intelligible terminology, so listening to them is an excellent method to enhance your Thai listening comprehension. We want you to discover ways to learn Thai by listening to Thai music.
Meanwhile, we have the ideal app if you want to expand your knowledge of Thai grammar and learn new words.
Learn Thai With Ling Now!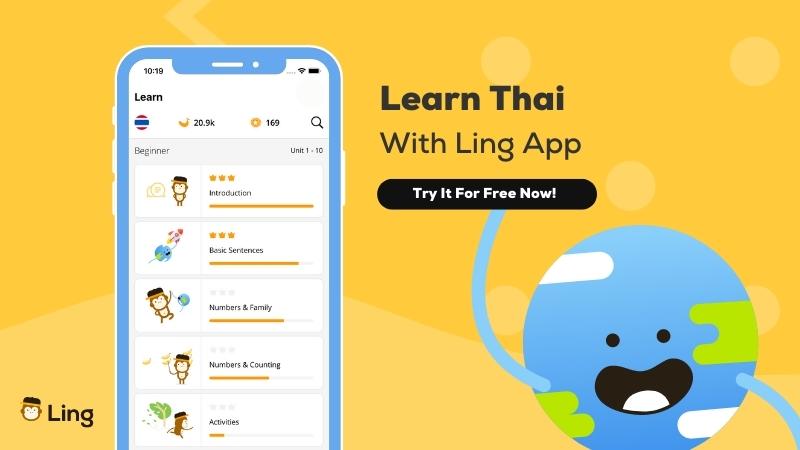 Learning Thai with Ling is the best way to become fluent!
If you're the type of person who benefits most from variety when learning a new language, our app was made for you. Thanks to Ling, you can start studying Thai on your mobile device, which is compatible with Android and iOS. In addition, we offer a comprehensive vocabulary for study and memorizing; you can include any of its terms in your everyday speech. Above and beyond that, we give fun tools like a chatbot, quizzes, and puzzle games to boost your learning of the language.
Most Thai learners chose Ling to help them succeed, so why not join them? Download the Ling App from Google Play Store and Apple App Store now, and prepare to be fluent in Thai soon!