Do you have a favorite Thai actor? There are some famous Thai actors who rival superstars in America. They star in Thai TV series and Thai movies, and locals go crazy for them! There's an obsession with Thai actors and Thai actresses that lasts for decades.
Actors in Thailand never shake their fame. A few have international recognition as some Thai films have become famous outside of Thailand, especially in China and America.
Most Thai actors listed below have become household names with incredible popularity. Many boast over 10 million followers on Instagram and TikTok. You'll see famous Thai actors in advertisements all over Thailand and live very much in the public eye under intense scrutiny.
Most famous Thai actors achieve fame through minor roles in Thai movies, commercials, or TV. They've 'made it' if they get leading roles. Mainly in Thai drama series' (lakorns). Lakorns are soap operas that air for hours each day and are watched by tens of millions.
So, who is the most popular Thai male star?!
The Most Popular Thai Actors 2022
Mario Maurer (มาริโอ้ เมาเร่อ)
Mario rose to fame being a lead actor in The Love of Siam. He's known for being hilarious and handsome. Although he's much more famous in China, he is a lakorn and sitcom actor in Thailand. He's also been in Crazy Little Thing Called Love, Pee Mak, and Low Season.
Mario is of German and Chinese descent and ended up with an Italian name due to his father's love of Italian motorcycles.
Maurer was only 16 years old when he was approached by a scout at Siam Square in Bangkok to be a model. The rest is history! Since then, he's been consistently featured in the Thai media through TV dramas, advertisements, and as a presenter and TV host.
You can currently watch him as part of a group called '4+1 Channel 3 Superstar' along with other famous faces such as Nadech Kugimiya and Prin Suparat (also featured in this article.)
Mike Pirath Nitipaisankul (ไมค์ พิรัชต์ นิธิไพศาลกุล)
Mike Pirath is more commonly known as Mike D. Angelo. He's a Thai-Chinese singer, actor, and model-based in China.
Mike first became his debut by singing in the Thai pop duo Golf-Mike with his brother Golf Pichaya Nitipaisankul in 2005. They both got onto the international radar and gained international fame in China, Malaysia, Korea, and Japan.
Since then, Mike has starred in numerous Chinese TV shows. But he received international recognition in the international hit Hollywood film The Misfits, which starred Pierce Brosnan – James Bond!
Nadech Kugimiya (ณเดชน์ คูกิมิยะ)
Nadech Kugimiya is one of the few trained actors in Thailand. He graduated with a Bachelor's Degree in Communication Arts, majoring in Film.
His career began as a model, and his breakthrough came in 2010 with a leading role in a Thai drama called Ngao Rak Luang Jai. After this role, he rapidly gained fame by starring in a famous Thai film Game Rai Game Rak, with a famous Thai supermodel called Yaya (who he is now dating).
Nadech is now among the highest-paid actors in Thailand and is known as "The King of Presenters". You've undoubtedly seen him in advertisements for 7-11, Air Asia, TrueMove, and Shoppee.
He has also won more than 100 awards which include 'Best Actor' and 'Best Presenter.'
Weir Sukollawat Kanaros (เวียร์ ศุกลวัฒน์ คณารศ)
Weir broke onto the scene in 2006 at a young age when an entertainment manager spotted his picture and flew to his small hometown to convince him to go into the business.
He has since starred in over 40 Thai drama series and has been in 5 Thai films. You can see him today in TV commercials and advertisements.
He has also been awarded many awards such as 'Male Superstar of the Year,' viewers 'Favorite Male Actor' and 'Best Asian Actor' in Thailand.
One of the ways he became a household name was by dating some of the most high-profile actresses and models in Thailand, including the Thai supermodel 'Pancake' and 'Bella Campen.'
Mark Prin Suparat (หมาก ปริญ สุภารัตน์)
Prin Suparat, aka 'Mark Prin,' is known as The Prince of Lakorns (The Prince of Soap Operas). He began his career in the entertainment business behind the camera as a talent agency manager working for Thailand's Channel 3.
He got a role in a Thai drama series and has been in 20 Thai drama series and 2 movies. You may have seen Mark in Ab Ruk Online, Buang Athithan, and currently stars in My Husband In-law on Channel 3.
The Prince of Lokorns hails from Chiang Mai and is off the market as he's married to Kimberley Anne Woltemas, a famous Thai model and actress. They were even awarded 'Couple of the Year.'
You can still pine after him through advertisements for Samsung and Honda.
Boy Pakorn Chatborirak (บอย ปกรณ์ ฉัตรบริรักษ์)
Boy Pakorn Chatborirak initially graduated from university as a pharmacist but went into a modeling career and started to get noticed when his photos began appearing in local magazines. He became a poster boy!
His acting career took off in 2009 when he starred in a popular Thai drama and then was in a few movies and is the voice behind a few Thai cartoon characters.
Over the past decade-plus, Boy has won the admiration of millions for his participation in charitable pursuits based on providing housing for the poor, protecting the forests, and elephant conservation.
Shahkrit Yamnam (ชาคริต แย้มนาม)
Shahkrit, aka Krit, rose to fame in the '90s and remains a prominent Thai actor until now.
His career began as a fashion model in Angel and Thoe Kub Chan magazines. After which, he was a host of the Thai series TeenTalk and was a singer on the album Teentrax. He also starred in music videos which got him roles in movies and comedies.
In the late 2000's Krit gained popularity internationally by being featured in foreign films such as Belly of the Beast, which starred Steven Seagal, and Bangkok Dangerous, which starred Nicholas Cage.
Chantavit Dhanasevi (ฉันทวิชช์ ธนะเสวี)
Chantavit prefers to go by his stage name, Ter. He made his acting debut at the university through faculty theater productions.
After he graduated, he tried being a screenplay writer, dabbled in assistant directing, and eventually landed his breakout role in Hello Stranger's famous romantic comedy.
His performance got him the Star Hunter Award at the Shanghai International Film Festival.
Ter has also starred in Thai blockbusters such as Pee Mak and One Day.
Jesdaporn Pholdee (เจษฎาภรณ์ ผลดี)
Jesdaporn, known as Tik, was an engineer but ended up in the entertainment industry as a presenter for television advertisements. It wasn't long before a Thai filmmaker noticed his talents and asked him to be in the Film Dang Bireley's and Young Gangsters. He and this Film were credited with revitalizing the Thai film industry.
Tik has put much effort into showcasing the importance of ecotourism through the TV show The Navigator. It has earned him an Honorary Doctorate in Environmental Science and Natural Resources from the Rajamangala University of Technology.
Tony Jaa (โทนี่ จา/จา พนม)
Tony Jaa grew up in rural Thailand and was obsessed with Bruce Lee, Jackie Chan, and Jet Li.
He has gained the title of a favorite actor in Thailand because he is super multi-talented. Tony has been a Thai martial artist, action choreographer, stuntman, director, and actor. He has even spent time as a Buddhist monk.
You may have seen him in his breakthrough role in Ong-Bak: Muay Thai Warrior when he was only 18 years old.
He caught the attention of Jackie Chan, who personally cast him in the international hit film Rush Hour 3.
Jaa continues to gain international fame by being in Furious 7, XXX: Return of Xander Cage, and Triple Threat.
Ken Theeradej Wongpuapan (เคน ธีรเดช วงศ์พัวพันธ์)
Theeradej Wongpuapan was no stranger to the entertainment business. His father was an actor, and his mother was a scriptwriter.
He initially didn't interested in going into acting but was approached by a producer at a friend's wedding and starred in lakorns and movies such as Go-Six and Bangkok Traffic (Love) Story.
He became so popular he was admitted into Thailand's Most Popular Star Hall of Fame.
You can see him acting on popular lakorns today. He also gives back to the community by being an ambassador to the United Nations Children's Fund, contributing to social stability.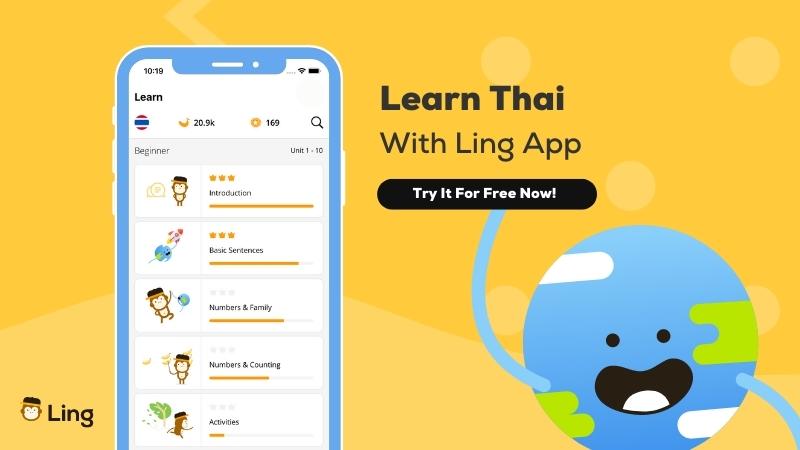 Round-Up Of The Most Famous Thai Actors Complete!
Well, there you have it! That's the list of the top famous Thai actors in Thailand who have contributed significantly to the Asian film industry. You can find most of them on social media, where they have tens of millions of followers. You're also likely to see their faces just by walking around.
They are all poster boys for companies for the largest Thai corporations. Look for our next round-up of famous Thai actresses coming soon!
Also, if you're interested in learning more about Thailand and the Thai language, check out our other popular blogs, such as How to Say Hello in Thai, How to Learn Thai on Your Own, and the Most Common Thai Words.
If you'd like to learn Thai right now, then Ling App is your answer! Ling App is leading the way in language acquisition and offers over 60 languages.