Hey there language learners, today we are going to dive into the wonderful world of Tamil weather vocabulary! Tamil is one of the oldest languages in the world and is spoken mainly in southern India and Sri Lanka. Learning Tamil can be an exciting journey and it can help you better understand the culture and customs of Tamil Nadu.
The weather and changing of seasons is of course a primary part of Sri Lankan and southern Indian culture. The weather can be boiling hot, then rapidly change to huge downpour monsoons, then blow your socks off with powerful winds. Though, you can find some nice weather in between!
So, let's get started with weather expressions, meaning, & examples!
Crazy Climates & Seasons In Sri Lanka
Let's discuss the climate of Sri Lanka, a country uniquely situated in the Indian ocean, south of the Indian subcontinent. Fun fact: Sri Lanka is one of the hottest countries in the world. Yep, you read that right. Though, don't fret, as you do get some relief with rain and lower temperatures in certain parts of the country.
The infamous monsoon season (called Maha season), usually around September – March, is an epic display of rainfall. Bring your umbrella and buckle up for Mother Nature's roar.
If you've spent too much time in the extremely hot capital city of Colombo, you may start to crave lower temperatures. Time to go trekking! You can find lower temperatures in the southern mountainous regions of Sri Lanka.
As you can see, Sri Lanka has a varied and extreme array of seasons and weather. Travelers best be prepared for intense heat, rain, and wind.
Now that you know what you're getting into, let's learn!
Tamil Weather Vocabulary & Weather Expressions In Tamil: Heat, Wind, & Rain
மழை (Mazhai) – Rain
Rain is a common occurrence in Tamil Nadu, especially during the monsoon season. If you're traveling to Tamil Nadu, it's a good idea to pack an umbrella or a raincoat. The word for rain in Tamil is "Mazhai".
Mazhai or Mazhaiyum = light rain
Kaar Mazhai = heavy rain
Mazhapadutham = a drizzle
காற்று (Kaattru) – Wind
Tamil Nadu is also known for its strong winds. The word for wind in Tamil is "Kaattru".
Kaattru = gentle breeze
Veli Kaattru = strong wind
Puli Kaattru = gust of wind
காலம் (Kaalam) – Season
Tamil Nadu has three main seasons – summer, monsoon, and winter. The word for season in Tamil is "Kaalam". You can use this word to talk about the different seasons in Tamil Nadu.
Kaar Kaalam = monsoon season
Kathir Kaalam = summer season
Neer Kaalam = winter season
பனி (Pani) – Frost
While it doesn't get very cold in Tamil Nadu, the mountainous parts of the state experience frost during the winter season. The word for frost in Tamil is "Pani".
Pani = light frost
Neruppu = heavy frost
Pani Vizha = frosty morning
மேகம் (Maegam) – Cloud
Clouds play an important role in the weather of Tamil Nadu. The word for cloud in Tamil is "Maegam".
Maegam Thirandha Naal = a cloudy day
Maegam Ondru = a partly cloudy day
Maegam Thundu = cloudy sky
உயிர் காற்று (Uyir Kaattru) – Breeze
A gentle breeze can make a hot day more bearable in Tamil Nadu. The word for breeze in Tamil is "Uyir Kaattru".
Uyir Kaattru = cool breeze
Eri Kaattru = refreshing breeze
Thoothu Kaattru = light breeze
காட்டுப்பனி (Kaattu Pani) – Hail
While hailstorms are rare in Tamil Nadu, they do occur from time to time. The word for hail in Tamil is "Kaattu Pani".
Kaattu Pani = hailstorm
Pani Vithai = hailstones
சூறாவளி (Suraavali) – Thunderstorm
During the monsoon season, it is common to experience thunderstorms. Tamil Nadu has some of the most beautiful lightning displays you will ever see. If you're lucky enough to experience a thunderstorm in Tamil Nadu, make sure to take a moment to appreciate the beauty of nature.
பொன்னியின் மழை (Ponniyin Mazhai) – Winter Rain
During the months of November and December, Tamil Nadu experiences what is known as "Ponniyin Mazhai". This is a unique type of rain that falls during the winter season. It is known for its soothing sound and is considered to be very relaxing.
கார் மேகம் (Kaarr Maegam) – Fog
If you are planning a trip to the hill stations in Tamil Nadu, you might experience some fog. Tamil Nadu has some of the most beautiful hill stations in the country, and fog adds to the charm of these places. Make sure to carry warm clothes if you are planning to visit these areas.
சீர்குழல் (Seerkuzhal) – Cyclone
Tamil Nadu is also known for its cyclones, which can be very dangerous. Cyclones are a type of weather phenomenon that can cause high winds and heavy rain. If you hear that a cyclone is expected to visit you, make sure to stay indoors and stay safe.
கார் சூரிய அதிகாலை (Kaarr Sooriya Adhikaalai) – Summer Sun
If you are visiting Tamil Nadu during the summer months, be prepared for the scorching heat. The temperature can soar up to 40 degrees Celsius (104 degrees Fahrenheit), and it's important to stay hydrated and wear loose, light-colored clothes. Also, make sure to bring respectful clothes if you're visiting holy temples while in Sri Lanka!
குளிர்காற்று (Kulirkaattru) – Cool Breeze
During the winter months, Tamil Nadu experiences a cool breeze that can be very refreshing. It's a great time to go for a walk or spend time outdoors.
Wrapping It Up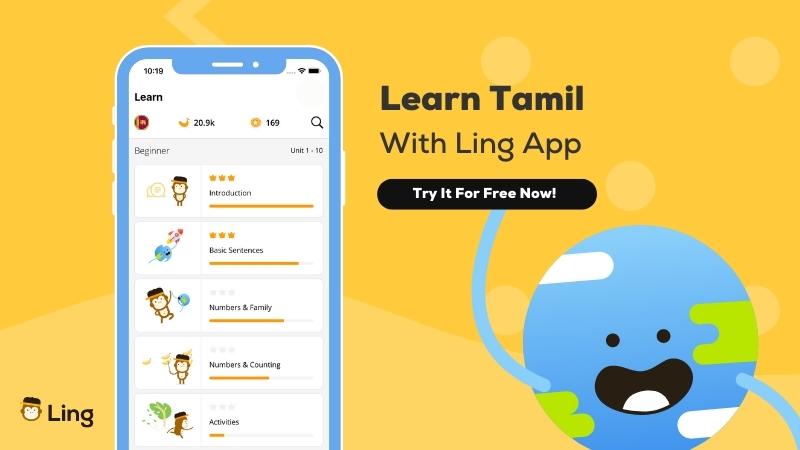 Learning Tamil weather related words and vocabulary can help you better understand the weather patterns in Tamil Nadu and also help you communicate with the locals and make friends! You can use these words to ask about the weather, plan your day, or plan when to take your trip! I hope you learned something new and useful today. Tamil can seem daunting and challenging, but if you take it day by day, you'll see major improvements over time!
Interested in more cultural & entertaining language-learning resources for the future to learn Tamil? Download the Ling App! It is a user-friendly language learning app with quality games, quizzes, audio lessons, and interactive features proven to help you learn a new language (and have fun while doing it!)
You can download it for free on device from the App Store and Play Store.

Learn more Tamil Numbers & Family Vocabulary with these links for your next lesson to strengthen your Tamil skills! You got this!