Want to learn Albanian? Contrary to common belief, you do not need to keep your head stuck on the book. What you can do is enjoy Albanian movies and TV series to train your ears and catch those phrases that you might not understand at first. Not sure which one to start with? This post will help you pick the best flicks! Keep reading below!
Movies are an essential language-learning tool that only a few utilizes. Many used to think that they may distract you, but the truth is that they can significantly help beginners to learn new languages. In fact, studies have shown that watching movies in a foreign language can help you improve your pronunciation and listening skills significantly!
The key to learning Albanian through films is to choose the right ones. The best ones will be those with simple or minimal dialogue so that you can focus on the sounds of the words and their meaning. They should also contain subtitles or closed captions so that you can read along as well.
Albanian Movies
Albanian films might not be that famous now, but till the 1950s, Albanian cinematography was a big deal. You will start recognizing more words if you watch Albanian movies with subtitles. An excellent way to do that is by writing the words and sentences you find easy to learn in a notebook.
Skanderbeg (1953)
This movie is based on a true story about a well-known Albanian hero, George Kastrioti Scanderbeg is an Albanian national hero. The film begins with a young boy being abducted by the ottoman empire. The ottoman empire trained that boy until that boy became a remarkable warrior. He served for 20 years before returning to his own country to free the Albanians from the oppression of the ottoman empire. Skanderbeg shows the history of a living legacy. This story inspires every Albanian, and almost all are proud of him.
The Unfinished Portrait (2019)
The Unfinished Portrait (2019) involves an Albanian boy who falls in love with a daughter of an Italian dictatorship. The story begins with a very successful Albanian painter who visits Italy to exhibit his paintings, and at the same time, he falls in love with an Italian girl. This movie features a tragic love story and how they fought against their states. Meeting after so many years, they finally confess their feelings to each other.
Tomka And His Friends (1977)
This movie is about a bunch of boys living in an Albanian village occupied by nazis. The young boys are oppressed by the nazis, which leads to a dispute between them. The nazis took over the playgrounds of these children, which led to a feud. Tomka was the leader of the boy group. This is a great movie that shows the history of Albanians, the struggles they went through, and how they dealt with all these obstacles.
Red Poppies On Walls (1976)
Red Poppies on Walls (1976) is about orphans living in the capital of Albania, Tirana. During World war ii, the children of this orphanage had to deal with Italian fascists. The movie tells us about the terrible life of children and has a unique and powerful plot. It is very touching and emotional as it deals with the troubles faced by children. The movie's main villain was the running caretaker of the orphanage.
Aga's House (2019)
In a society where it is not possible to live without a man, Aga's House (2019) features the life of five women living on their own. The five women, and a nine-year-old, live in an isolated house. At the beginning of this movie, it is unclear why these women are living with each other despite not even being related. Most of them are in their twenties except the widow, who looks way older.
Aga is a lovely boy who sells cigarettes to earn a living. Sad, right? He later saves his Serbian teacher. The only main male character in this movie is Cera, who is an abusive person, but at the same time, he helps Aga to find his missing father.
The Forgotten Mountain (2018)
The Forgotten Mountain (2018) tells us the story of a 72 years old retired colonel whose son has been scammed. After losing all of his property, Rikard became dependent upon his daughter Ema, a very kind and loving lady.
Ema and her husband offered him a house in the mountains that he happily took. Rikard spent quality time with his daughter and son-in-law in the hills. The locals of the mountains motivated him every day to enjoy life. This movie is directed as well as produced by Ardit Sadiku. According to many viewers, this movie shows the reality of many Albanian families.
Cash Only (2015)
An American Albanian crime thriller story sounds incredible. This movie features a terrible chain of events happening in the life of an Albanian American landlord. At the movie's beginning, Martini deliberately sets fire to his place, but he has no idea that his wife died there. He is left with one daughter and has to raise her alone. Martini is left with many debts and owes a lot of money to a moneylender. He can't even get rid of his debts with the money coming from his property, so all of these situations end up making him very desperate.
The cinematography of this movie is beyond amazing as it captures every little detail of Martini's life. The writer of this movie is Nikola Shkreli playing the character of Martini, directed by Malik Bader.
Amsterdam Express (2014)
Amsterdam Express (2014) features the story of an Albanian immigrant living in Amsterdam. Bekim is a 30 years old man who has been surrounded by the fascinating life of Amsterdam, and at the same time, he has been threatened by many drug dealers and sex traffickers, so his life hasn't been easy so far.
This movie also shows the love of his life who is living back in his country, which makes him even more desperate to earn money, but instead, he saves the life of a young girl and returns to his country empty-handed.
The Hill Where Lionesses Roar (2019)
The Hill Where Lionesses Roar (2019) involves the role of three young women living in a small village in Kosovo. The story further features one of the two characters being physically and sexually abused by their families.
Hence, after all these traumas, the three decided to form a gang and leave their village. The movie is written, directed, and produced by Luana Bajrami as she showcased her remarkable skills by creating a fantastic film featuring the problems women must endure to live.
Wrapping Up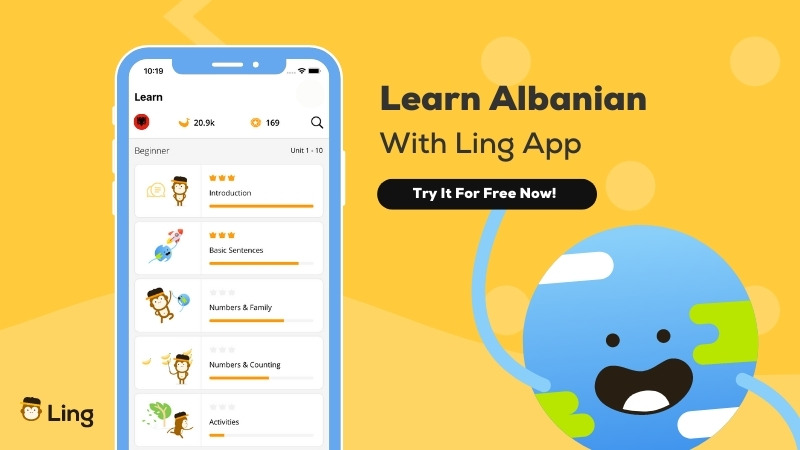 Hopefully, you will learn a lot by watching Albanian movies. To enhance learning the Albanian language, check out Ling App with some up-to-date learning methods. Using the interactive chatbot for 15 minutes daily may hone your listening and speaking abilities since practice makes perfect. The most remarkable aspect is that you can learn more than fifty languages using Ling App. Want to see the difference? Install the Ling App from Google Playstore or App Store and start learning Albanian now!
We also have other helpful blog posts like weather vocab in Albanian and Albanian shopping vocab. Happy learning!