The Nepali film industry has been rising very quickly in recent times. From hit movies and TV shows like Kabaddi 4 to amazing actors and actresses with their extraordinary talents, the unique voices of Nepal have been reaching different corners of the world. If you are looking for a guide concerning such talented Nepali actresses, you have come to the right place.
Today, in this blog post, we will talk about the most talented and famous Nepali actresses who have taken the Nepali movie industry to new heights. While they are yet to host the billboards of the international producer world, nothing is stopping them from becoming the most loved and popular personalities in Nepal. Recently, with movies like Prakash, Prem Geet 3, and more, Nepalese actresses have attracted millions of audiences worldwide and marked a new era of acting skills in the Nepalese film industry. So, let us not waste any more time and dive into some interesting facts about famous Nepalese actresses.
Nepali Film Industry
Before we go into the details of top actresses, let us have a quick peek at some facts related to the Nepalese film industry. Since the industry is still at an early stage and has only recently started rising, it is necessary to have a brief idea of their past and present.
Nepalese film is still a new concept in the country. It started late in the 1950s under the heavy influence of Bollywood films in India. Even today, Nepali movies release narratives and music videos that look similar to the style of Indian movies shot on 16-millimeter films.
The Nepalese film industry is known as Kollywood. Kathmandu is the center of the Nepalese language movie industry, hence the name. The first Nepali movie shot by DB Pariyar, "Satya Harishchandra," marked the beginning of Kollywood. It was produced in Kolkata, India, and was released in 1951. However, the first film to be produced in Nepal was "Aama," released in 1964.
The golden era of Nepalese films began after the 1980s when more films were being directed and produced with viable success and improvement. Further, the introduction of private companies made the industry boom more, and Nepalese audiences also increased their attention toward movies. Some of the popular films of the golden era were "Samjhana," "Lahure", "Basudev," "Saino," "Koseli," etc.
Despite the rise, there came an era of downfall during the Maoist revolution. War and conflict reduced entertainment expenses, and films came under a rock. However, after 2006, the Maoist government started developing Nepali movies again, and they are very enthusiastic about it. The new generation movie industry produces both indigenous and Bollywood-style movies where a glamorous girl or a village lady is the common characteristic of the main actress.
Top Nepali Actresses
Now we will dive into the details of some famous Nepalese actresses to give you a quick guide to the entertainment world of the Nepali industry. Being familiar with facts concerning actresses always makes shows and movies more interesting as they become more and more relatable. So, to make your movie experience better, here is a list of facts for you!
Priyanka Karki- Highest Paid Actress
One of the most talented, highest-paid, and most popular actresses in Nepal that bagged multiple titles like Miss Talent, Miss Teen Nepal 2005 and Miss intelligent starting at the age of just 18, is none other than Priyanka Karki. She started her career in radio and TV serials, and now, her talent and versatile acting skills have bagged her hundreds of positions in numerous movies, among which "Chakka Panja 2," "Fateko Jutta," "Happy days," and so on are some of the most popular ones.
Priyanka was born on 27th February 1987 in Kathmandu. She did her studies in the USA and then returned home to pursue acting. She is now a prime social activist and has many social media handles. She is also the founder of the Ayanka Foundation.
Pooja Sharma
Second in line but not in talent, Nepali actress Pooja Sharma has been in the bright spotlight in recent times. It is not just her beauty and extraordinary figure that has bagged her such a position, but her hard work, dedication, and marvelous acting skills that got her the tag of one of the most popular and highest-paid actresses in Nepal. Her acting career started off with the movie "The Three Lover." However, her role in the movie "Prem Geet" made her one of the best in the country.
Pooja Sharma was born on 30th April 1994. She was brought up in Kathmandu and did her schooling there. Later, she went abroad to Canada and got her tourism degree. Hence, she was first interested in Journalism. However, She soon became a Nepali model. Now, she is a singer, actor, and all-rounder.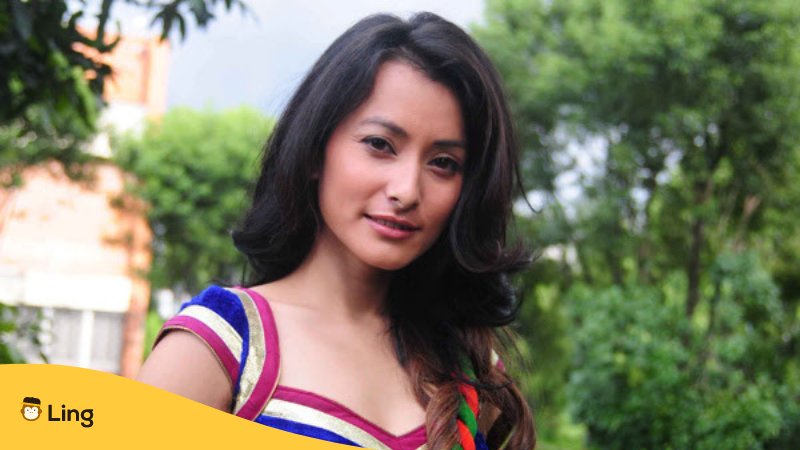 Namrata Shrestha
Another versatile actress and famous role model for many youngsters in Nepal is Namrata Shrestha. Despite rough ups and downs in her career, Namrata Shrestha managed to make a huge comeback in the Nepali industry not just as a Nepalese actress but film producer, filmmaker, singer, and radio jockey. She started with the movie "Sano Sansar" in 2008 and rose to fame after the movie "Mero Euta Sathi Chha". Shreshta is now a National Film Award-winning actress.
Namrata was born on 14th June 1985 in Dharan, Nepal. To date, she has acted in fifteen movies, among which "November Rain" and "First Love" is very popular. Apart from movies, she has also done theatre where "Oleanna," "Yerma," and so on are popular ones. As mentioned, she is also a film producer and has her own production company named Highly High Entertainment. She has also been seen on the covers of a lot of magazines.
Barsha Raut
If you are looking for a role model to start your acting career from ground zero, Barsha Raut is here to inspire you. Barsha has been keen on acting from a very young age. She started her career acting as a model in the music video called "Raeko Maile," and later, her astounding beauty, expression, and talent attracted many deals and offers. She is one of those actresses in Nepal who struggled through obstacles to get their first debut movie without any known background. She started from zero, but today, she stands as the most known and loved Nepalese film actress.
Barsha was born on 13th December 1993 in Sindhuli, Nepal. She was born in a middle-class family and completed her schooling at White House College and apex College. While starting with music videos, she was also a well-known model, quite famous for her curvaceous figure and mesmerizing smile. Later, many directors and producers took the chance and gave her the opportunity of starring in the movie industry. Some of her popular movies are "Dal Bhat Tarkari," " Chhakka Panja 3," "Gopi," and more.
Surakshya Panta
Who said only models can become good actresses? Nepal has another very talented actress who is not just a model but an engineering student, besides being a versatile actress in Nepal. She starred in many amazing Nepali movies. She is known for her excellent performance in the movie "Dhanpati," which acclaimed a lot of support from the audience.
She was born on 20th February 1994 in Butwal. She did her studies in Kathmandu and started her acting career in the year 2015 with the movie "Ajhai Pani." Some of her popular movies are "Ghar," "Aama," and "Gopi." Apart from these, she is also a dancer and an award-winning poet.
Jassita Gurung
Jassita Gurung is the charm of Nepal. Known as one of the most beautiful actresses, Jassita, in a very short time, won the hearts of many. Apart from being extremely pretty, she is also talented and dedicated to her acting career. She made her first debut movie in 2018, known as "Lily Bily," with co-actor Pradeep Khadka, which became quite popular. Her performance in the movie made her the recipient of the Best Debut Female Actress Award in 2018.
Jassita was born on 16th May 1996 in Pokhara, Nepal. However, her family moved to the UK when she was a young child, and she continues to live still. Apart from being a fabulous actress, Jassita is also known for her fascinating dancing skills, which bagged her the winning title of "UK Dance Off 2017." She has also represented Nepal on many occasions and in international dance competitions.
Swastima Khadka
Swastima Khadka is one of Nepal's most loved and celebrated actresses in recent times. She made her first acting debut in the movie "Hostel Returns," and has since secured a top position in the Nepali movie industry. She also participated in Miss Teen Nepal at the very young age of 17 and has starred in many music videos like " Samjhana ma" and "Banera Ghati."
Swastima was born on 4th July 1995 in Kathmandu, Nepal. While she is known for her talent and beauty in the movie industry, she became extremely popular as the wife of Nischal Basnet, a Nepali director, after her marriage. Although their couple is quite popular among the youths of Nepal, she is also known for her modeling and acting skills. Some of her popular movies are "Chapali Height," "Bulbul," and " Ghamad Sere."
Suhana Thapa
Running the legacy of her mother, Jharana Thapa, and director father, Sunil Kumar Thapa, Suhana Thapa is a rising star in Nepal. She made her first debut with the movie "A Mero Hajur 3" and gained a lot of popularity. Although quite young and new to the movie industry, she has rapidly become famous because of her background and talent. She has been able to establish herself as a strong personality in front of other actresses with just a few offers.
Suahana was born on 23rd July 1996 in Nepal. She did her education in India and later moved to the USA. Thus, she is not very fluent in the Nepalese language but is constantly taking classes to improve on it. Suhana becoming an actress was her mother's dream. And now, we can say that her mother is quite satisfied with a daughter who is not just a top actress but also a businesswoman who owns her own production house, Suhana Production.
Wrapping Up!
Well, looking at the quality and personality, there is going to be a shortage of awards in the Nepali movie industry soon. So many young and talented artists have come up in the new times that Nepal no longer has to worry about its future generation. Although Nepal still has a lot to learn and achieve, with such youthful souls, it indeed has a bright future in the entertainment industry.
I hope you liked reading about so many beautiful ladies and that now you will enjoy Nepali shows more than ever. However, if you want to learn more and get a hold of their language to get rid of subtitles, the Ling app is here to save you!
Learn With The Ling App
Ling is one of the best apps when it comes to language learning. It has content on numerous topics like food, sports, business, etc., in 60+ languages curated by expert writers worldwide. It also hires native speakers who record audio to ensure that learners carry forward the right accent.
Moreover, you get to enjoy regular conversational lessons with an AI chatbot that the app features. Such lessons can enhance your fluency and make retention easy. So, what are you waiting for? Download Ling from App Store or Play Store and learn Nepali today!