Wondering why Korean karaoke is a must-try? Karaoke is a great place where people usually go to unwind after a long day of hustle. This is one of the most popular activities among Asians, which is why there's no surprise that many of them are crowned as best singers worldwide. In fact, it's impossible to find a singing competition without any Asians competing!
Planning to go to Korea? If you've ever been to Seoul, you'll know that it's totally normal to find alleyways filled with private karaoke shops! This means that it's crucial for foreigners like you to try it out to connect with the community. Let's learn more about this culture in the sections below.
Noraebang Culture
Before we head toward the details of noraebang culture, let's touch upon the word noraebang because many non-Koreans do not know about this. Basically, noraebang is a Korean word that combines "norae" meaning "sing" or "song," and "bang," meaning "room." So noraebang literally means "room to sing."
History Of Noraebang
Korean karaoke is directly linked with Japanese traditions. One reason behind this is that karaoke machines were invented in Japan, and they were the ones who influenced the Koreans to try them out. Fast forward to today, the Korean culture cannot be fully appreciated if you have not tried jamming with your friends inside karaoke booths.
If you have had enough of a party at the bars, go to karaoke to keep yourself awake. Most Koreans party and drink with their friends or colleagues at bars or restaurants and then end up in karaoke, where they have fun while singing their favorite k-pop songs with lovesick girls. Since most booths are open until morning, many people also stay in the karaoke booths!
Where To Find Karaoke In South Korea?
Honestly, finding karaoke in Korea is not at all a challenging job. You can notice a signboard of karaoke rooms on every other road pathway, especially around universities. For example, Hongdae is one of the most famous karaoke places in Korea, where many Seoul students enjoy and relieve themselves.
Students mostly spend their days off shopping, watching movies, and having dinner with their family and friends then they end while dancing and singing in karaoke. Besides, Hongdae, Gangnam, associated with the Gangnam style neologism, and Myeongdong are famous places in crowded areas of Seoul.
The Price Of Karaoke In Korea
Price is an important factor one must consider before going to a place with a karaoke booth. But you don't need to go the extra mile to know about the expense. I have got a solution for you. The cost of a karaoke room depends on the hours spent and services provided there. It varies from place to place, and the most luxurious karaoke rooms will have the most price of around 20-30,000 won per hour.
Just like that, a slightly average karaoke room will cost no more than 5,000-15000 won per hour. If this is expensive for you, then there is no need to worry; they also offer special discounts on off-peak hours.
These were the costs of combined karaoke, while the prices would be higher if you wanted a private room where you could practice singing your song selection. So if you're going to have a ball, you can visit solo practice rooms in Korea. These solo practice rooms will cost 2,000 won per hour in the morning while 4-6000 won per person in the afternoon.
What Can You Find In Korean-style Karaoke?
If you have never been to Korean karaoke and only heard about it, you must be curious about what's in it. Chill! It's time to kill your curiosity.
Inside a Korean Karaoke room, you will find two microphones, a karaoke machine, a remote control, one tambourine, and a songbook containing many international songs and your favorite K-pop hits. You can reserve a few costumes in most places to help you cosplay during your karaoke sessions.
Most karaoke room has different themes that you can choose from. Some of these have nautical designs, while others have a professional karaoke bar look! So basically, this is like a choose-your-own-adventure type of approach!
Some booths also have the classic coin noraebang. These small, ATM-shaped, cutely designed karaoke rooms are found primarily in university areas where students come with their classmates or co-workers for relief. A small coin room has the capacity of 1-4 people, costing 1000 won for four songs. 
Things To Remember When Going To Karaoke With Koreans
Check out below some of the things you need to remember before heading into a karaoke bar in Korea:
Avoid singing other people's chosen songs until and unless they ask you to accompany them in singing. Otherwise, you will be considered an ill-mannered person.
Prepare at least three to four songs to sing when you are in Korean karaoke. It might get awkward if you keep singing the same song several times, even if it is your favorite one.
Try to sing on your turn and give others time to complete their song, even if they have a terrible voice.
Karaoke is a beautiful place with a warm atmosphere where you can forget the world. So if you are stuck in your busy lifestyle, like in studies, or doing a job, take some time out of your busy routine and enjoy yourself at the noraebang. I bet you will never regret that.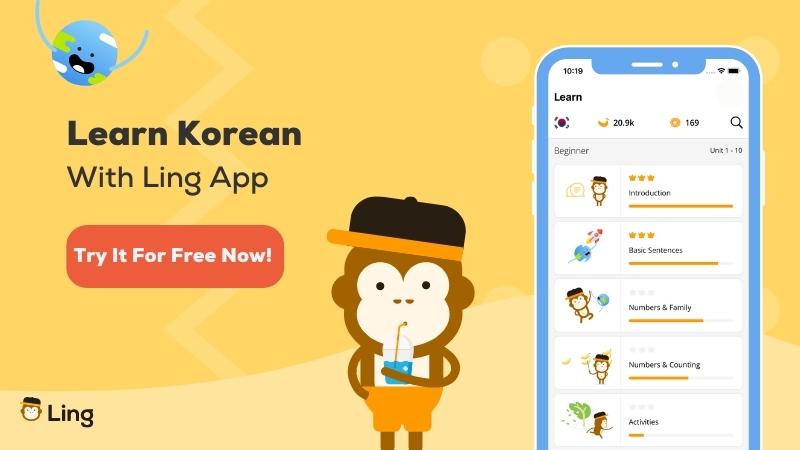 Learn More Korean Words And Phrases With Ling!
The Ling app is an application that gives quality lectures on language learning. It offers courses in more than sixty- languages, including Thai, Korean, Chinese, Italian, Spanish, and countless others. It is a helpful app that replaces the textbook learning habit and alternatively offers flashcards and spaced repetition techniques.
So if you want to learn a language, take a small step to install the Ling app, and you be at the top of the world after learning your favorite language. Download the app from Google Play Store or App Store and start learning the Korean Language. Happy Learning!