Do you relate to Julia Roberts from Pretty Woman and Carrie Bradshaw from Sex And The City, because they love to try out fascinating clothes and collections? Well, we can't blame you. Who doesn't like to go on a shopping spree and make a quick change to the wardrobe? Especially with vacations, shopping can never be out of the picture. So, in today's blog, we will go through some common shopping vocabulary in Bosnian, like Koliko je ovo, Preskupo je, and more that will engage you in an exciting bargaining session in Bosnia.
Bosnian markets will surely keep you busy with its enchanting crafts and artifacts. Especially if you are a student traveling abroad for studies, you will find many cheap and local stores that have fantastic grocery options. So, if you want a fun and easy shopping experience in Bosnia, now is the correct time to get familiar with some Bosnian phrases and words. If you are interested, continue reading below!
Shopping In Bosnia And Herzegovina
Before we head on to our words and phrases in the Bosnian language, let us walk through some tips and tricks regarding Bosnian markets. Knowing these will help you buy the right things at the right place.
1. If you are traveling to Bosnia for business or studies, you are sure to live for an extended period. In such cases, it is a must to think about long-term shopping goals. So, don't forget to scroll through the local markets. While malls can be quite attractive and exciting, if you want groceries at cheap prices but good quality, it is best to choose local markets that provide fresh farm products. Supermarkets will have the same item at double the price.
2. Another thing about shopping in Bosnia is that you will find many online stores. As a student, going out and buying daily groceries can be stressful. Therefore, with the help of online shopping stores, you can save both time and cost. To have a smooth online shopping experience, try and use translation apps or learn primary Bosnian words.
3. If you want to buy authentic souvenirs and fancy items for yourself and your family members, Bosnia has a lot in store. Market like the Old Bazar Kujundziluk is a good example, where you will find everything ranging from Ottoman lifestyle cafes and restaurants to Turkish ornaments and handcrafted products. It is full of colorful shops that will keep you in awe throughout the shopping spree.
4. Bosnia is also packed with many luxurious malls like the Mepas Mall, Sarajevo City Centre, and Alta Shopping Centre, where you can shop from well-known brands featuring technology, sports, and fashion. These malls also have gaming zones or entertainment floors where you can spend time with your friends and family once you are done shopping.
5. Other than shopping malls, Bosnia also has the oriental Bascarsija Bazaar in Sarajevo, a famous marketplace where you will find artisans' products sold directly from their workshops. From handmade shawls to ceramic pots, coffee grinders, and traditional food items, the marketplace is filled with surprising elements. The Kaffa cafe is a popular place in the bazaar, where you can relax and eat.
Shopping Vocabulary In Bosnian
In this lesson, we will go through all the words related to shopping in the Bosnian language. Learn this Bosnian vocabulary by heart to have a relaxing journey.
A-D
| | | |
| --- | --- | --- |
| English | Bosnian | Sound |
| Advertisement | Oglas | |
| Accessory | Dodatna oprema | |
| Assistant | Asistent | |
| Bill | Račun | |
| Buy | Kupi | |
| Basket | Korpa | |
| Boutique | Butik | |
| Bargain | Pogodno | |
| Brand | Brand | |
| Bag | Torba | |
| Coin | Novčić | |
| Cash | Unovčiti | |
| Cheque | Provjeri | |
| Cashier | Blagajnik | |
| Customer | Kupac | |
| Counter | šalter | |
| Credit card | Kreditna kartica | |
| Discount | Popust | |
| Department | Odjel | |
| Delivery | Dostava | |
| Deposit | Depozit | |
E-Z
| | | |
| --- | --- | --- |
| English | Bosnian | Sound |
| Exchange | Razmjena | |
| Escalator | Pokretne stepenice | |
| Franchise | Franšiza | |
| Grocery | Namirnica | |
| Gift | Poklon | |
| Lift | Lift | |
| Luxury | Luksuz | |
| Money | Novac | |
| Mall | Tržni centar | |
| Merchant | Trgovac | |
| Purchase | Kupovina | |
| Product | Proizvod | |
| Price | Cijena | |
| Purse | Torbica | |
| Pay | Plati | |
| Receipt | Potvrda | |
| Return | Povratak | |
| Sell | Prodaj | |
| Sale | Prodaja | |
| Salesmen/ Saleswomen | Prodavci/ Prodavačice | / |
| Trial room | Probna soba | |
| Wallet | Novčanik | |
Bosnian Phrases Related To Shopping
Here we will go through all the common Bosnian phrases that will help you bargain with the local vendors. While you have already enhanced your Bosnian skills with the words in the earlier section, learning these examples and expressions will further improve your speaking skills in the Bosnian language.
1. How Much Is This?
Translation: Koliko je ovo?
The first common phrase that you must know by heart is this. From asking the price of a product to measuring the weight of a particular item, this phrase will help you in all scenarios. Especially at local markets, the items don't have price tags attached to them as you find in the supermarkets.
2. Please Reduce The Price
Translation: Molimo smanjite cijenu
After you ask the price, now is the time to bargain. Bargaining should be a way of reaching an equally beneficial amount and not incurring loss to the vendor. So, you must ask the vendor polity by using this phrase. Doing so will surely bring the price down to a certain amount that will sound reasonable for both you and the seller. Although you should always bargain in local markets to get the best deals, don't bargain too much when it comes to artisan products that are authentic, as it might hurt their sentiments.
3. What Is the Last Price?
Translation: Koja je zadnja cijena?
After a good bargaining session, you can always assure that you have reached a reasonable rate by using this phrase. This is like the last call where the vendor gives you the final price. It is a very helpful sentence that will come in handy in every marketplace. Keep it saved in your memory so you can take home the best items at the least price without any regrets.
4. Do You Accept Credit Cards?
Translation: Da li prihvatate kreditne kartice?
While it is recommended that you always carry cash to reduce stress during shopping, you never know when you might fall short of it. So, to enquire if a particular shop uses card payment, you can use this phrase to get a concrete answer. Always try and use card payments in restaurants and malls where it is available, so you can save cash for local markets where online transactions are absent.
5. It Is Too Expensive
Translation: Preskupo je
If you find an item being overpriced, there is no harm in expressing it. You can use the given phrase to let the vendor know that the item is too costly. Doing so will allow the seller to show you an item that has a lower price or adjust the price to a reasonable amount. Never skip these expressions, as they are handy when shopping in street markets.
6. Do You Have More Designs?
Translation: Imate li još dizajna?
If you like a product but want to explore more designs and patterns, you can use this phrase. Unlike supermarkets, local vendors don't display all the available products due to a lack of space. So, if you want to find out more items, ask them politely, and they will surely provide you with the services. It is important to know such phrases because it acts to your advantage. So, always encourage yourself to learn common vocabulary for a fruitful vacation.
7. This Size Is Too Small For Me
Translation: Ova veličina mi je premala
If a size doesn't fit you and you want to look for a bigger one, you can use this expression. Although the English language is slowly becoming standard in Bosnia, most people prefer their native language, especially in the street markets. Hearing you try the local words will also make them happy and encourage them to give good rates and designs.
8. Pack These Items For Me
Translation: Spakuj ove stvari za mene
After you are done choosing your products and deciding your rate with the seller, you can use this phrase for a final sign. Sometimes the seller might get confused and pack the wrong items as the street markets are usually very busy. So, to avoid such confusion, you can point out your things and utter the given phrase, benefitting both yourself and the seller.
More Shopping Phrases In Bosnian
Here is a list of more phrases that might come in handy during your shopping spree.
| | | |
| --- | --- | --- |
| English | Bosnian | Sound |
| Do you accept online payment? | Da li prihvatate online plaćanje | |
| What discount do you have? | Koji popust imate? | |
| Can you show me your best item? | Možete li mi pokazati svoj najbolji predmet? | |
| Can I see a gift item? | Mogu li vidjeti poklon? | |
| Is this handmade? | Je li ovo rucni rad? | |
| Is this made in Bosnia? | Jel ovo napravljeno u Bosni? | |
| This dress is too big for me | Ova haljina mi je prevelika | |
| Do you have…? | Imas li… | |
| Do you have it in this color? | Imate li ga u ovoj boji? | |
| Show me the cheapest one | Pokaži mi najjeftiniji | |
| Thank you for your service | Hvala vam na usluzi | |
| Can I exchange it later? | Mogu li je zamijeniti kasnije? | |
| I love your store | Volim tvoju radnju | |
Learn Bosnian Vocabulary With Ling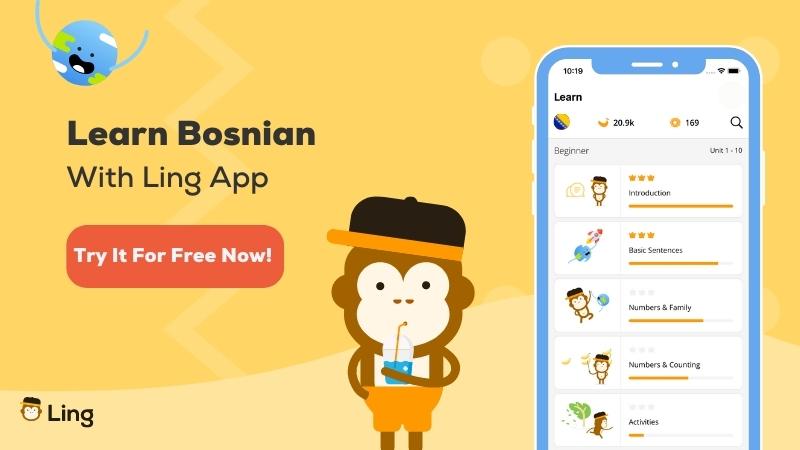 So, you are now officially prepared to get your walking shoes on and hit the colorful streets of Bosnia this season. The given phrases will not just help you get the best prices but also make you sound like a local, giving you an authentic shopping experience. However, never forget to always be polite and respectful. Bargaining should be a friendly agreement, not an argument.
These words and phrases are just the first steps in becoming a fluent Bosnian speaker. If you aim to become a pro in the Bosnian language, we suggest you download the Ling app right away!
Ling is one of the best language learning apps that sits perfectly on your mobile and laptop at any time and anywhere. It covers 60+ foreign languages, proving fun content on different topics like love words, travel phrases, restaurants, and more fun packed with puzzles, mini-games, and quizzes. It also hires expert writers and native speakers who ensure you learn the course the right way.
The best part of the app is the AI chatbot that proffers interactive exercises, enhancing your communication skills and retention. So, if you want to become a part of the Ling family, download the app now from App Store or Play Store and start learning Bosnian today!