Perhaps you have been thinking of learning Bosnian for some time and finally, you decided to actually start with the help of language learning apps. The first app that comes to your mind is Duolingo but you've found out that there is no Bosnian on Duolingo.
After that, you've gone for Babbel… Nothing but another let-down.
Unfortunately, similar to Duolingo, there is no Bosnian on Babbel. It doesn't offer the less spoken Slavic languages and Bosnian is no exception. But hey! We got you covered. At the end of this blog post, we will recommend you four language resources that you can learn Bosnian.
As a start, we will introduce Bosnian briefly and then get to the reasons why there is no Bosnian on Babbel.
About The Bosnian Language
Bosnian is spoken by over 3 million people today and it is a Slavic language closely related to the Serbo-Croatian language family. So, it belongs to the same language family as Serbian, and Croatian.
Bosnian uses two different alphabets: Latin and Cyrillic. It is noticeable among the other Serbo-Croatian languages for a number of Turkish, Arabic, and Persian loanwords. It is primarily due to the Bosnian people's interaction with those cultures through Islamic relations.
Where Is Bosnian Spoken?
Bosnian is the native language of Bosnia and Herzegovina, a fantastic country placed in the western Balkans in Europe. Those historical regions don't correspond with the two autonomous political entities. While the country's capital is Sarajevo, the most popular cities known are Mostar and Banja Luka.
Ethnicity Of Bosnia & Herzegovina
The country has been strongly influenced by regional powers and thus a rich ethnic and religious mix has been created. The influences of Islam, Orthodox Christianity, and Roman Catholicism can be seen all over the country. And these three faiths generally correspond to three major ethnic groups in the country: Bosniaks (Muslims), Serbs (Orthodox), and Croats (Catholics).
There are many pros and cons of having a multiethnic population in a country. The best thing is that you can experience different cultures at the same time and learn a lot from other people in terms of intellectuality.
The worst thing on the other side is that the multiethnic population, besides the country's geographic position between Serbia and Croatia, has made Bosnia and Herzegovina vulnerable to nationalist territorial issues.
Other Spoken Languages
The native language of the majority is Serbo-Croatian, which means there are people who speak Croatian and Serbian but they understand each other more or less since they are mutually intelligible languages.
5 Reasons To Learn Bosnian
1. Of course, the number one reason to learn Bosnian is your interest in learning a foreign language. If you are an enthusiastic language learner who is always hungry to learn a new language, why don't you give at least one Slavic language like Bosnian a try?
2. If you ever travel to Bosnia & Herzegovina I'm sure you will fall in love with the historical and natural beauties there such as Mostar Old Bridge and Kravica Waterfall. Who knows, maybe you will decide to live there someday?
3. Bosnians can be the most hospitable people that you can come across in Europe. Did you know that in almost every Bosnian house there is a spare room for guests?
4. Similar to Turkey, Bosnian cuisine is full of delicious foods and beverages. Speaking for myself, if the cuisine is appetizing enough, it is a good reason to learn that language! 🙂
5. If you want to experience a living culture and history in the streets and among local people of different ethnicities, you should add Bosnia & Herzegovina to your bucket list right now. Of course, there are many people that can speak English in the country but the interaction and empathy become stronger if you communicate through the local language.
Why Is There No Bosnian On Babbel?
We see that many popular language apps like Babbel don't offer a Bosnian course. With not knowing the exact reason behind this issue, we've come up with a couple of possible reasons why there is no Bosnian on Babbel.
Bosnian is a less spoken language (3 million speakers) when compared to its neighbor Slavic languages. So instead of adding an unpopular language course, Babbel would prefer to work up its content in other popular languages spoken by more than 100 million people.
The Bosnian language has a complicated history. About 25 years ago, there was only one language called Serbo Croatian which later on split into different smaller languages. So, if Babbel launched a Bosnian course, then it would have felt pressure to launch courses teaching all of the other small Balkan languages.
What Language Apps Have Bosnian?
As we mentioned before, finding a good resource to learn a Slavic language excluding Russian and Ukrainian is difficult. But you are lucky that we've collected four resources that you can learn Bosnian online.
Learn Bosnian Through YouTube
As you know, YouTube has become the number one resource for learning languages recently. You can also learn various learning tips from native speakers, polyglots, teachers, and experts thanks to YouTube.
We've discovered a channel that teaches Bosnian, it is called How To Speak Bosnian. You can easily access their Bosnian lessons for free. Even though they haven't posted anything in a year, I still think that you can benefit from their content and reach at least an intermediate level in Bosnian.
Learn Bosnian With 50 Languages
50 Languages is a language learning app that offers 50 language courses including Bosnian. The app includes a high-quality Bosnian phrasebook for free. You can access 100 free downloadable audio recordings of native Bosnian speakers and other lessons. There are various exercises focusing on vocabulary, the alphabet as well as quizzes and games.
Learn Bosnian With Italki
Italki is an app that brings language learners and language tutors together. You can learn Bosnian from zero with native people who speak Bosnian. Other than that Italki itself doesn't offer you any vocabulary or grammar lessons at all. It's all about the language tutor.
You can easily find a Bosnian language tutor and have an online meeting for 30 mins or an hour. You can get a few trial lessons for a lower price at the beginning.
To get more information about this app, don't forget to read our Italki review!
Learn Bosnian With Ling App
I genuinely think that the best app to learn Bosnian is by far the Ling App. Because it offers a Bosnian course from zero to an advanced level. Ling doesn't only offer Bosnian but it also offers the other languages spoken in Bosnia and Herzegovina, which are Serbian and Croatian.
Ling doesn't only teach you a foreign language but also surrounds you with cultural knowledge through Ling's blog. If you want to learn more about the Bosnian language and culture, check out our Bosnian blog here!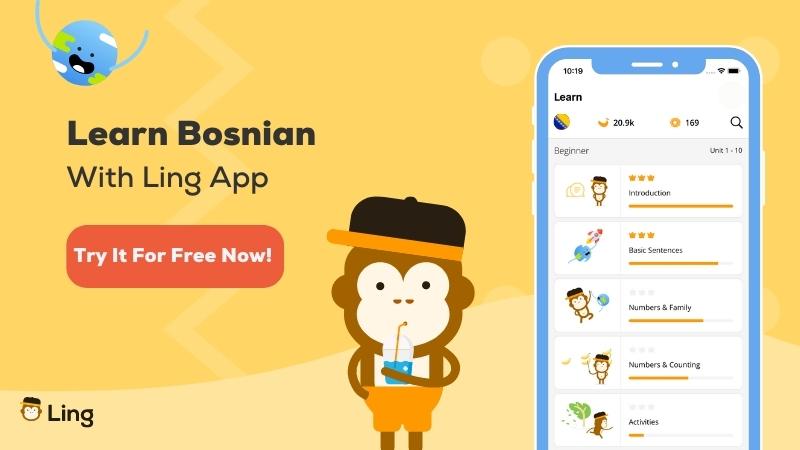 Ling puts an organized learning plan in front of you and all you have to do is just follow the sequence and complete various exercises ranging from writing and listening exercises to an AI chatbot to practice your conversation skill.
The Ling App offers you everything you're looking for in a language learning app. Trust me, you won't regret it if you give the Ling App a try for FREE by simply downloading it from the App Store or Play Store.
Learn Bosnian, or any other 60+ languages, now by downloading Ling Until next time!