Are you planning to shift to Bosnia for educational purposes? Then you have come to the right place. Travelling to an entirely new country without general insight into their culture and language can put you in great hassle. Especially if you are planning to settle for teaching or learning purposes, you will have to meet the locals every day and converse with them, which can be quite overwhelming.
Although Bosnian people speak English to a great extent, learning some local words in the south Slavic language, Bosnian will only help you blend in easily. So, today's plan is to navigate through the language barrier and help you learn some Bosnian school phrases. If you are interested, continue reading!
Even if you already have a basic understanding of greetings and travel words in the Bosnian language, it is a must to learn school phrases and basic words in Bosnian if you truly want to sound like one of them during your school hours. So, in today's blog post, we will walk through all the common school-related Bosnian phrases like Gdje je kantina- Where is the canteen, Mogu li ući- May I come in, and many more that will help you converse easily as a teacher as well as a student. So, let's buckle up and get on with our Bonsian language-learning ride!
Education System In The Bosnian Culture
Before we hop into the common words and phrases, let us have a quick peek at the Bosnian school culture. Going through these pointers will further allow you to adapt to the local culture at the earliest.
Like most countries, Bosnia has a lively and growing educational sector that aims at imparting knowledge to every member of society. It has a compulsory educational scheme for all children between the age of 6 to 15. Compulsory education is free of charge for all, and the parents only have to bear the charges for transportation, food, and books.
The education system of Bosnia and Herzegovina has four distinct levels, namely the Kindergarten level, primary, secondary, and tertiary. Very similar to other Western countries, the Bosnian version of education is not very complicated.
At the kindergarten or preschool level, the kids have a choice if they want to attend a school or not. These are centres mainly for physical care for kids aged 3-4. Primary education is the compulsory education that every child of age 6-15 needs to pursue. One of the most recreational things about Bosnian education is that, along with basic academic subjects, the primary level also partakes in ballet, music, and dance classes.
Secondary education is not compulsory. It is for students of ages 16-18, having two options, general studies and vocational or technical secondary education. Students who opt for general studies go through a course of four years of academic subjects. At the end of the level, they are required to take a Matura exam, which then leads to their admission to higher education. Similarly, vocational education also lasts for four years at max.
Tertiary or higher education is the level where students go to private or public higher institutions like universities, faculties, and more. Some of the most popular institutions in Bosnia are the Sarajevo School of Science and Technology, the American University in Bosnia and Herzegovina, International Burch University, and the Sarajevo Graduate School of Business. Higher education comprises undergraduate courses, post-graduate level courses, and PhD/ Doctorate level studies.
Bosnian School Phrases
Now, let us come back to our main lesson and learn some basic phrases with correct pronunciation that you will constantly use once you step foot in your new school in Bosnia. Learn them by heart and avoid any awkward conversations with your local mates.
1. Hello, How Are You?
Translation: Zdravo, kako si?
The first and the most important phrase that you will need, regardless of whether you are a teacher or a student, is this. Greeting in Bosnia is very essential. Bosnian locals are very friendly and welcoming, and as a sign of respect, they always greet each other and make everyone near them feel at home. So, whenever you meet your friends or someone new in your school, don't forget to greet them with a wide smile. In fact, the majority of the population in Bosnia follows Islamic tradition. So, if you want to sound religiously sound, you can use the traditional greeting, which sounds like As-salamu alaikum, meaning "Peace be upon you."
2. Where Is The Principal's Office?
Translation: Gdje je direktorov ured?
Since you are a newbie in the school, the next and one of the most useful phrases that you will need is this. From having a word or two with the administration to getting your documents approved and signed, the principal's office will be a common place for you for the next couple of days. And since you are new, the best way to get directions or information about the location and timings of the admin or the principal's office is to ask this simple question. It will also help you bring fluency to your speech if you practice regularly.
3. Where Is The Canteen?
Translation: Gdje je kantina?
Whenever we say school, we immediately think about lunchtime and the canteen. What better place to make friends and memories than in the canteen, right? But as a newbie, you might get a little confused about the location of the canteen. So, to get the right help without worrying too much about the confusing map of the school, ask a local politely with the given phrase, and you are sure to find your way out. Apart from the principal's office, the canteen is also going to be commonplace at the beginning of your school time in Bosnia. However, the canteen is the best place to make friends. So, don't miss out on that chance.
4. When Does The Class Start?
Translation: Kada počinje čas?
You are sure to receive a routine or a timetable once you join the school officially. However, as a newcomer, you might have some confusion with the timings of when the first class starts. In such cases, you don't have to panic. If you know this phrase, you will surely find your answer in no time. Moreover, it can also act as a good conversation starter with your new mates. You can start talking and making friends immediately.
5. What Is Your Name?
Translation: Kako se zoveš?
As I said, once you start with your enquiry about your class and timings, you will have a nice opening for a new conversation. And the most important phrase that you must know to get acquainted with your new classmates is this. Without knowing one's name, you will never make friends. So, whenever you get a chance, ask their names, get to know them, and start conversing. Also, if you get asked the same question, you can easily reply with Moje ime je… (My name is…).
6. Where Are You From?
Translation: Odakle si?
Another helpful phrase that will enable you to speak Bosnian fluently is this. It is a daily life common phrase that will help you start conversations and communicate with the locals. If not this way around, you are sure to hear the same phrase coming from the locals since you are the new one in the school. If so, you can reply to them with, Ja sam iz… (I am from…). Hearing you speak Bosnian will not only amaze them but will also make them more warm and welcoming towards you. Also, people learn language by listening. So, once you start communicating, make sure you are keeping your ears open.
7. Can You Please Help Me With…
Translation: Možete li mi pomoći sa…
As a new attendee, you will surely find yourself in a lot of trouble and confusion. From physical to technical, you will only get so far all alone. Whenever you think you are out of solutions, don't hesitate and ask a passerby or your friends in school if they can help you with this phrase. Bosnian don't like taking orders. However, if you ask them politely, they will be the first person to come and help you voluntarily. So, if you find yourself in any kind of trouble, be humble and reach out for someone's help.
8. Nice To Meet You
Translation: Drago mi je što smo se upoznali
No matter your designation, as the teacher or the student, whenever you meet someone new, always act courteously and use this phrase. As a new member of the school, it will help you create an impression on them and also open future possibilities of engaging in new friendships and relations. It is a general greeting phrase in Bosnian that you must know despite the situation.
School Phrases Related To Students
Let us get into more specific lessons now. Here is a list of school phrases that will be very helpful if you are a student.
| | |
| --- | --- |
| English | Bosnian |
| May I come in? | Mogu li ući? |
| When is the first class? | Kada je prvi čas? |
| Do you have the new timetable? | Imate li novi red vožnje? |
| Where is the washroom? | Gdje je toalet? |
| Do you speak English? | Govorite li engleski |
| Ma'am, I have a doubt | Gospođo, sumnjam |
| Would you like to be friends? | Želite li biti prijatelji? |
| Can I take leave? | Mogu li uzeti odmor? |
| What is your subject? | Šta je tvoja tema? |
| Yes, I understand! | Da, razumijem! |
| I need your help | Treba mi vaša pomoć |
Bosnian Phrases For Teachers
If you are the teacher, here is a list of phrases that will help you during your classes.
| | |
| --- | --- |
| English | Bosnian |
| Please sit down | Molim vas, sedite |
| Do not make noise in the class | Ne pravite buku u razredu |
| Did you complete your homework? | Jeste li završili domaći? |
| Everybody please pay attention in the class | Svi obratite pažnju u razredu |
| Are there any questions? | Ima li pitanja? |
| Why are you late? | Zašto kasniš? |
| I will punish you | Ja ću te kazniti |
| Someone solve this problem | Neka neko resi ovaj problem |
| It's time for attendance | Vrijeme je za prisustvo |
| Everybody pays attention in the class | U razredu svi obraćaju pažnju |
School Words In The Bosnian Language
If you want some more insight into the Bosnian language, here is a list of school terms to read.
| | |
| --- | --- |
| English | Bosnian |
| Answer | Odgovori |
| Assignment | Zadatak |
| Book | knjiga |
| Chalk | Kreda |
| Compass | Kompas |
| Computer | Kompjuter |
| Classroom | Učionica |
| Calendar | Kalendar |
| Desk | Sto |
| Exam | Ispit |
| Folder | Fascikla |
| Gym | Teretana |
| Homework | Zadaća |
| Keyboard | Tastatura |
| Library | Biblioteka |
| Lunch | Ručak |
| Notebook | Dnevnik |
| Pencil | Olovka |
| Principal | Direktor |
| Question | Pitanje |
| Quiz | Kviz |
| Reading | Čitanje |
| Student | Učenik |
| Test | Ispit |
| Teacher | Učitelju |
Over To You!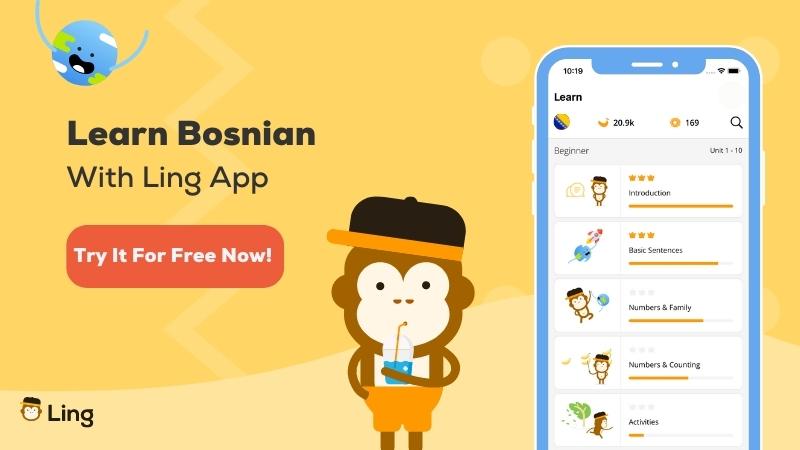 Now that you know all the common words and phrases related to school in the Bosnian language, you are ready to rock your first class. As a new member, your efforts of speaking in the local language will only bring warm responses and appreciation from the locals. However, it is not the end.
If you truly want to become one of the locals, download the Ling App now. It is one of the most revolutionary language apps that give content on topics such as food, love, transport, travel, and many more. It hires expert writers and native speakers, especially for you to learn the correct translations and pronunciation. Many Bosnians have also recommended this app for its fun learning techniques.
Moreover, you get to learn 60+ foreign languages with an AI chatbot that offers conversational lessons. Meaning, even before your land in Bosnia, you will become a pro-Bosnian speaker. So, if you want to learn Bosnian and other languages right away, download the Ling app from Appstore or Playstore now!