Are you looking for some good resources to learn the Bosnian language? Well, how about you learn some Bosnian jokes and share a laugh with the locals as you simultaneously improve your speaking skills? Going through jokes in the target language is one of the best ways of improving vocabulary and communication skills.
While learning greeting words like hi, hello, goodbye, etc., are essential, a few funny lines will only make your conversations more meaningful and fun. So, if you want to walk through a fascinating collection of Bosnian jokes-Šale, continue reading!
Today's blog has prepared a huge list of jokes in Bosnian for you. From Q&A jokes to short stories, you will find everything here. Learning jokes in Bosnian can take you a long way as they are often a set of wordplay which will help you understand the nuances of the language and its grammar. Moreover, jokes are some of the best ways to start a conversation and engage in lively interaction.
So, if you are going to meet your friends in Bosnia soon, don't stop scrolling.
Bosnian Jokes: Funny Q&A
Jokes always lift your mood! Feeling low? Read a few jokes. Getting bored? Get a burst of good laughter through jokes. Don't know how to start a conversation? Use a joke instead. You see, jokes always come in handy. Especially when Bosnians laugh all day and love to make others laugh, jokes will surely become your best friend. In fact, Bosnians laugh at their own stupidity and insult each other as a joke. Nobody takes offense, and even totally irreverent things make them laugh out loud. Well, Bosnians are the greatest hedonists in the world! The truth of this will soon become evident once you start interacting with them.
Here, you will go through some Q&A jokes that will certainly test your humor. Since it is in question-and-answer format, it will also act as a great entertaining element in your conversations. So, are you ready to rock your time in Bosnia with a witty Bosnian joke?
English
Bosnian
Sound
Q: What do you call a fake noodle?
A: An IMPASTA!
Q: Kako se zove lažni rezanci?
A: IMPASTA!


Q: Why is Bosnia so dirty?
A: Because Croatia won't let them swim
Q: Zašto je Bosna tako prljava?
A: Zato što im Hrvatska ne da da plivaju


Q: What do you do to get a robot mad?
A: Push all of its buttons
Q: Šta radite da naljutite robota?
A: Pritisnite sve njegove dugmad


Q: What do you call someone who never passes gas in public?
A: A private tutor
Q: Kako nazvati nekoga ko nikada ne daje gas u javnosti?
A: Privatni učitelj.


Q: What do you call the daughter of a hamburger?
A: Patty
Q: Kako se zove ćerka hamburgers?
A: Patty


Q: What happens when you drop a red hat into the blue sea?
A: The hat will get wet!
Q: Šta se dešava kada bacite crveni šešir u plavo more?
A: Šešir će se smočiti!


Q: Do you want to hear a construction joke?
A: Sorry, I'm still working on it
Q: Želite li čuti građevinski vic?
A: Oprostite, još uvijek radim na tome


Q: Poor people have it. Rich people need it. If you eat it, you die. What is it?
A: Nothing
Q: Jadni ljudi ga imaju. Bogati ljudi to trebaju. Ako ga pojedete, umirete. Šta je?
A: Ništa


Q: How do you get the lemon to drop?
A: Just let go of it!
Q: Kako natjerati limun da padne?
A: Samo pustite to!


Q: What do you call a boomerang that doesn't come back?
A: A stick
Q: Kako se zove bumerang koji se ne vraća?
A: Štap


Q: What do you call something that goes up when the rain comes down?
A: An umbrella
Q: Kako se zove nešto što se diže kad padne kiša?
A: Kišobran


Q: What does a triangle called a circle?
A: Pointless.
Q: Kako trougao naziva krug?
A: Besmisleno


Q: What do you call someone who draws funny pictures of cars?
A: A CAR-TOONIST
Q: Kako nazvati nekoga ko crta smiješne slike automobila?
A: A CAR-TOONIST


Q: How many divorced men does it take to change a lightbulb?
A: Who cares? They never get the house anyway.
Q: Koliko je razvedenih muškaraca potrebno da se promeni sijalica?
A: Koga briga? Ionako nikad ne dobiju kuću.


Q: What did the baby corn say to the mama corn?
A: Where is popcorn?
Q: Šta je beba kukuruza rekla mami kukuruzu?
A: Gdje su kokice?


Q: What's the difference between a hippo and a zippo?
A: One is really heavy, and the other is a little lighter
Q: Koja je razlika između nilskog konja i zippa?
A: Jedan je zaista težak, a drugi je malo lakši


Q: What's green and pear-shaped?
A: A pear
Q: Šta je zeleno i kruškoliko?
A: Kruška


Q: How many apples grow on a tree?
A: All of them!
Q: Koliko jabuka raste na drvetu?
A: Sve!


Q: What happened to the guy who lit a fire in his canoe to keep warm?
A: He learned that you can't have your kayak and heat it too
Q: Šta se desilo sa tipom koji je zapalio vatru u svom kanuu da bi se ugrejao?
A: Naučio je da ne možete imati svoj kajak i grijati ga


Q: What's an astronaut's favorite part of a computer?
A: The space bar
Q: P: Koji je omiljeni dio kompjutera astronauta?
A: The space bar


Q: Did you hear about the first restaurant to open on the moon?
A: It had great food, but no atmosphere
Q: Jeste li čuli za prvi restoran koji se otvorio na Mjesecu?
A: Imalo je odličnu hranu, ali bez atmosfere


Q: Why should you never trust stairs?
A: They're always up to something
Q: Zašto nikada ne biste trebali vjerovati stepenicama?
A: Oni uvijek nešto smišljaju


Q: Have you heard the rumor going around about butter?
A: Never mind, I shouldn't spread it
Q: Jeste li čuli glasine o puteru?
A: Nema veze, ne bih trebao to širiti


Q: Why doesn't Dracula have any friends?
A: Well, honestly, he's a real pain in the neck
Q: Jeste li čuli glasine o puteru?
A: Nema veze, ne bih trebao to širiti


Q: Want to hear a joke about a roof?
A: The first one's on the house
Q: Želite li čuti vic o krovu?
A: Prvi je u kući


Q: How did the mobile phone propose to his girlfriend?
A: He gave her a ring
Q: Kako je mobilni telefon zaprosio svoju djevojku?
A: Dao joj je prsten


Q: What did the snowflake say to the road?
A: Let's stick together
Q: Šta je pahulja rekla putu?
A: Držimo se zajedno


Q: Do you know why you never see elephants hiding up in trees?
A: Because they're really good at it
Q: Znate li zašto nikada ne vidite slonove koji se kriju na drveću?
A: Zato što su zaista dobri u tome


Q: Why doesn't the sun go to college?
A: Because it has a million degrees!
Q: Zašto sunce ne ide na fakultet?
A: Zato što ima milion stepeni!


More Bosnian Jokes To Make You Laugh
Here is a list of more Bosnian jokes translated into the English language that will make you laugh non-stop. Keeping these saved in your memory will help you sound like an interesting person and make your bond with the locals tighter and lighter. Especially when you are in a group, use the following jokes and become the star among everybody with a great sense of humor.
English
Bosnian
Sound
A man from Bosnia and a man from Japan were talking about priorities in life. The man from Japan said: For me, Japan is first, then my job, and then comes the family. The person from Bosnia said: For me, it is the opposite, first comes my family, then my job, and then comes Japan
Čovjek iz Bosne i čovjek iz Japana razgovarali su o prioritetima u životu. Čovjek iz Japana je rekao: Za mene je Japan na prvom mjestu, onda moj posao, a onda dolazi porodica. Osoba iz Bosne je rekla: Kod mene je suprotno, prvo dolazi moja porodica, pa posao, a onda dolazi Japan
Studying a foreign language starts with swearwords, enough to know half of Bosnian
Učenje stranog jezika počinje psovkama, dovoljnim da se zna pola bosanskog
An American, a Japanese, and a Bosnian talk about the elections.
The American says, "In America, in less than 2 hours after the elections, we know who won the elections."
The Japanese say, "That's nothing! In Japan, we know in 2 seconds."
The Bosnian says, "I don't get it, why does it take so long? In Bosnia, we know it 2 months before the elections."
Amerikanac, Japanac i Bosanac pričaju o izborima.
Amerikanac kaže: "U Americi, za manje od 2 sata nakon izbora, znamo ko je pobijedio na izborima."
Japanci kažu: "To nije ništa! U Japanu znamo za 2 sekunde."
Bosanac kaže: "Ne razumijem, zašto toliko traje? U Bosni to znamo 2 mjeseca prije izbora."
Heard about the new restaurant called Karma?

There's no menu: You get what you deserve
Jeste li čuli za novi restoran Karma?

Nema menija: dobijate ono što zaslužujete



Mujo is the husband. Fata is the wife. Fata has to go to the doctor. After an hour the doctor comes out of the room and starts a conversation with Mujo.

Doctor: Mujo, I have some bad news… Fata doesn't look so good…

Mujo: I know Doctor… but She cooks, cleans, and takes care of the kids!
Mujo je muž.
Fata je žena. Fata mora kod doktora. Nakon sat vremena doktorica izlazi iz sobe i započinje razgovor sa Mujom.

Doktor: Mujo, imam loše vijesti… Fata ne izgleda baš dobro…

Mujo: Znam doktorku… ali ona kuha, čisti i čuva djecu!






Did you hear about the equality they had in Bosnia in 1914?

They made it so that even a poor teenager can start a world war
Jeste li čuli za ravnopravnost koju su imali u Bosni 1914. godine?

Napravili su tako da čak i siromašni tinejdžer može započeti svjetski rat



Did you hear about the claustrophobic astronaut?

He just needed a little space
Jeste li čuli za klaustrofobičnog astronauts?

Samo mu je trebalo malo prostora



Over To You!
So, there you go! Now you know some of the most quirky and witty jokes that the Bosnians have never heard. Talking with the locals with these jokes will surely build some good memories for you and make your trip more fun and exciting. However, to make your language journey more informative, I suggest you go through the Ling app that has been designed for you!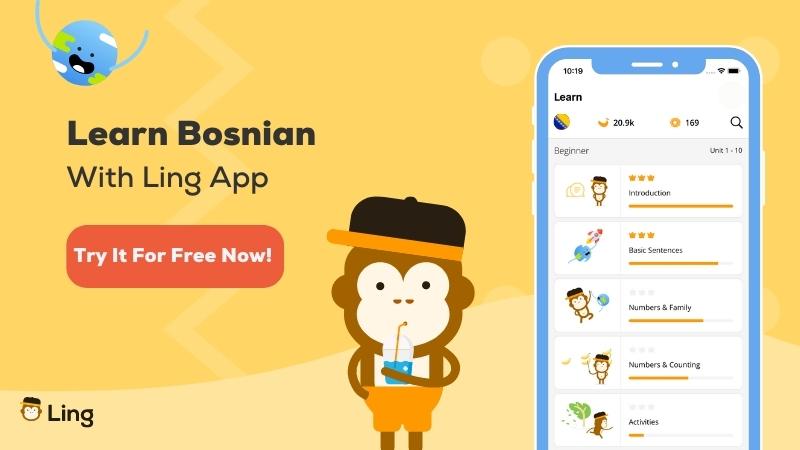 The Ling app is one of the best apps you can use to become a pro-Bosnian speaker. It covers 60+ foreign languages and puts up blog posts on different topics such as beginner vocabulary, love words, travel phrases, and more with the help of expert writers. It also hires native speakers who personally record audio for you and upload it on the blogs to ensure that you pick up the correct accent.
The most exciting part of the app is, however, the AI chatbot that offers interactive lessons. Once you go through a lesson, you don't have to worry about forgetting them. The interactive sessions of the chatbot make sure that you not only improve your communication skills but also retain everything easily. And lastly, since the app covers more languages than Bosnian, you have the freedom to explore different languages. So, what are you waiting for? Download Ling from App Store or Play Store now and start learning your favorite language!